Japan March Bond Futures Trade Halted for 30 Seconds on Plunge
Trading of Japan's government bond futures for delivery this month was halted for less than a minute after the price of the contracts dropped as much as 0.6 percent.
The so-called dynamic circuit breaker started at 12:32 p.m. in Tokyo and only applied to March contracts for about 30 seconds Wednesday, according to Masaki Takahashi, who works in the market management department at the Osaka Securities Exchange.
The underlying benchmark 10-year bond tumbled Wednesday, pushing yields up eight basis points to minus 0.015 percent as of 2:51 p.m., according to Japan Bond Trading Co., the nation's largest inter-dealer debt broker. Yields rebounded after dropping more than five basis points to a record minus 0.1 percent Tuesday.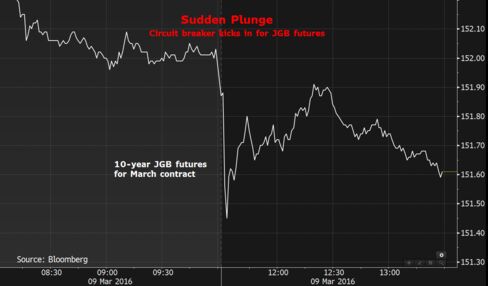 Wednesday's slide was partly driven by the results of the Bank of Japan's bond buying operation, according to Takenobu Nakashima, a quantitative strategist at Nomura Securities Co. in Tokyo. Its bid-to-cover ratio for debt with 10 to 20 years to maturity rose to 3.58 from 2.93 last week, indicating stronger investor demand to sell.
The BOJ's bond operation result spurred JGB selling "given that yesterday's rally was excessive," Nakashima said.
Before it's here, it's on the Bloomberg Terminal.
LEARN MORE