Full-year net loss more than doubles to 7 billion euros

Shares fall 3.1 percent, biggest loser in benchmark Dax index
EON SE, Germany's largest utility, reported its biggest ever annual loss after writing down the value of its coal and gas-fired power plants by billions of euros.
Its net loss more than doubled to 7 billion euros ($7.7 billion) in 2015 from a year earlier, the Essen-based company said Wednesday in a statement. That missed the full year 6.4 billion-euro loss predicted by 11 analysts surveyed by Bloomberg.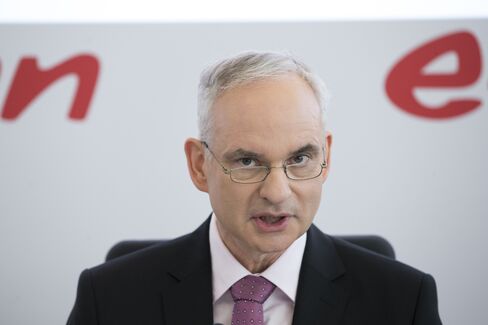 Germany's shift to renewable energy is hurting utilities as solar and wind plants get priority access to the grid, squeezing margins at traditional coal and gas-fired stations. All of Germany's four biggest utilities wrote down the value of their power generators in 2015 as wholesale electricity costs slumped. EON responded by spinning off its fossil-fuel plants into a separate company called Uniper that will be listed in the second half of this year.
"The general economic environment and the situation in our industry have deteriorated significantly," Chief Executive Officer Johannes Teyssen told reporters on Wednesday in Essen. "We therefore need to critically review Uniper and EON's direction and achievable ambitions."
EON's shares closed down 3.1 percent at 8.073 euros in Frankfurt, their lowest closing price since Feb. 11 and making them the day's biggest loser of Germany's benchmark DAX index. The utility has fallen 9.6 percent this year, compared with a 9.5 percent drop for the DAX.
The company proposed a dividend of 50 euro cents a share for 2015, unchanged from a year earlier and in line with guidance. There's no scrip dividend option this year. RWE AG, EON's closest competitor, in February announced a suspension of its dividend payment to most shareholders for the first time in at least half a century after writedowns.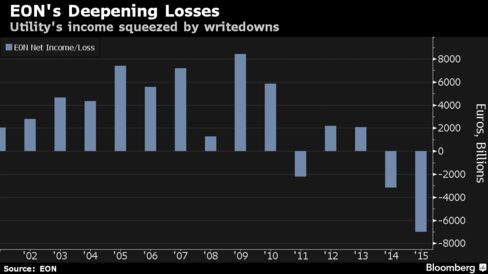 "The forecast dividend hasn't been challenged although it would have been conceivable, for example looking at RWE's figures," Thomas Deser, a fund manager at Union Investment, which holds EON shares, said by phone from Frankfurt.
The company reiterated that future free cash flow will be below earlier assumptions. "Future investments and dividends will have to reflect this," it said in the statement.
Plunging Power
German year-ahead wholesale power prices, a European benchmark, are trading at their lowest level since at least 2002, 75 percent below a 2008 peak.
EON reported writedowns of 8.8 billion euros for 2015, triggered by declining energy prices. RWE AG and Energie Baden-Wuerttemberg AG also wrote down the value of their plants by 2.1 billion euros and 700 million euros, respectively. Vattenfall AB, the power producer awaiting binding bids for its German lignite operations, wrote down 15.2 billion kronor ($1.79 billion) on the business last year.
EON was formed in 2000 by merging Veba AG and Viag AG. The annual net loss was the third in the company's history after being unprofitable in 2011 and 2014. For 2016, EON forecast underlying net income of 1.2 billion euros to 1.6 billion euros this year.
EON also said that its supervisory board proposed that Karl-Ludwig Kley replaces current chairman Werner Wenning after the company's annual general meeting on June 8. Kley is currently chief executive officer at Merck KGaA and he will leave the pharmaceutical company by the end of April.
RWE posted its second annual net loss in three years on Tuesday.
Before it's here, it's on the Bloomberg Terminal.
LEARN MORE