Egypt Said to Seek IMF Loan Talks Amid Dollar Shortage
Loan amount yet to be determined: senior government official

Central bank chief tells local media no plan to seek IMF loan
Egypt is preparing to start loan talks with the International Monetary Fund, a senior government official said, as the most populous Arab country seeks to tackle a dollar shortage that's hampering economic growth. The central bank chief denied the plan.
The size of the loan Egypt will seek hasn't been determined yet, the official said on Wednesday, speaking on condition of anonymity because the details aren't public. Central Bank Governor Tarek Amer said it's "not true" that the country plans to approach the IMF, according to Cairo-based news website Aswat Masriya. Central bank officials didn't respond to earlier requests for comment. A spokesman for the Finance Ministry said he wasn't aware of the matter.
Egyptian authorities haven't contacted the IMF, although the lender "stands ready to help," the Washington-based fund said in an e-mailed answer to questions.
An IMF loan program may help Egypt restore investor confidence and unlock more aid to plug a budget deficit that may reach 11.5 percent of economic output this fiscal year. Foreign-currency inflows have slumped as Gulf Arab allies cut back on aid after the oil slump, while tourism revenue has suffered following the downing of a Russian passenger jet last year over Sinai, where Egypt's army is battling an Islamist insurgency.
Foreign reserves now cover about three months of imports, compared with almost nine before the 2011 protests that ousted President Hosni Mubarak.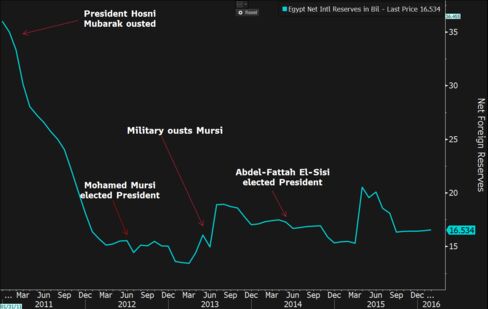 Borrowing from the IMF has traditionally been a contentious political issue in Egypt. The nation has held several rounds of negotiations since 2011, reaching two staff-level agreements that were never finalized.
But a deal may be easier this time around, according to Hany Genena, head of equities strategy at Cairo-based investment bank Beltone Financial. "Egypt has already implemented a big chunk of the economic measures that the IMF typically asks for," he said, referring to cuts in fuel subsidies and higher electricity prices.
Last month, the government lowered its economic growth estimate for the current fiscal year to about 4 percent from 5 percent. Egypt's benchmark EGX 30 Index for stocks has tumbled 34 percent in the last 12 months, making it the world's worst performer behind Ukraine. Meanwhile, the shortage of dollars has given rise to a black market for currency, where the Egyptian pound trades at a 20 percent discount to the official rate set by the central bank.
An IMF deal would improve investment and capital flows into Egypt, said Reham El-Desoki, senior economist at Dubai-based investment bank Arqaam Capital. That would in turn help Egypt avoid a sharp devaluation of the currency and boost the "speed and urgency of economic reforms," she said.
The fund has argued in the past that Egypt would benefit from a more flexible foreign-exchange regime.
If a loan deal can be reached, "authorities may be more confident loosening their grip on the currency," Jason Tuvey of Capital Economics in London said in an e-mailed note on Wednesday. But he said that "given the tumultuous history of negotiations between Egypt and the IMF, we're not taking anything for granted at this stage."
Before it's here, it's on the Bloomberg Terminal.
LEARN MORE