Coal-Fired Power Generation Falls Below Nuclear Again: Chart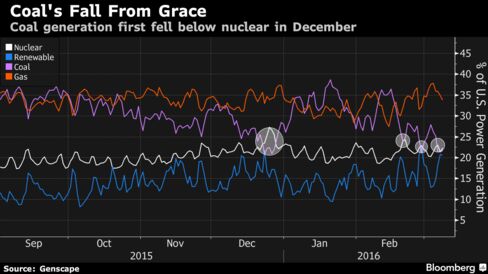 Coal-fired generation is losing more market share in the U.S. power supply market as cheap natural gas prices entice generators to switch fuels. Just this year, coal-fired generation has fallen below nuclear generation three times. Before that, coal generation had only fallen below nuclear once, for a short period, in December. With Henry Hub forward-curve gas prices below $2 per million British Thermal Units through July, coal's share of the power market will continue to cool, according to Genscape data.
Before it's here, it's on the Bloomberg Terminal.
LEARN MORE