Blame El Nino When Your Chocolate Gets More Expensive: Chart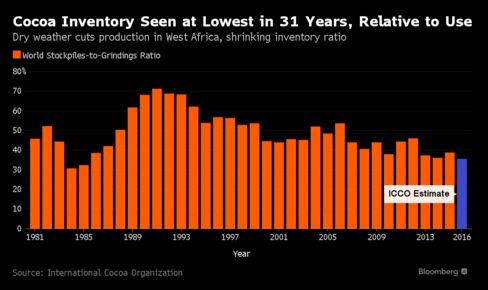 Just as chocolate demand is starting to recover, El Nino comes along to mess with your cravings. The weather pattern is causing dryness across the world's biggest cocoa-growing region, West Africa, and shrinking output means that global stockpiles relative to use are expected to sink to the lowest since 1985, the International Cocoa Organization estimates. It's setting the stage for more gains in cocoa futures after prices already recovered almost 9 percent since their recent low in January, said Judy Ganes-Chase, president of J. Ganes Consulting in Panama City, Panama.
Before it's here, it's on the Bloomberg Terminal.
LEARN MORE