Bernanke: A Fresh Approach to Fiscal Stimulus Is China's Only Solution to the Impossible Trinity
Devaluations and capital controls won't work.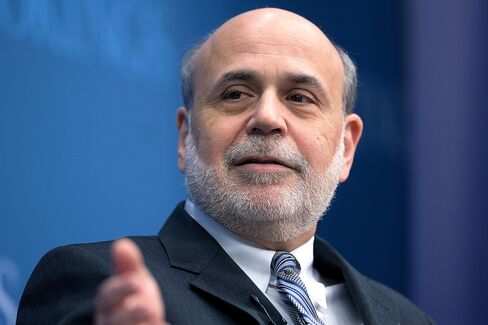 Former Fed Chair Ben Bernanke offered a solution to the problem that's long vexed Chinese policymakers and spurred turmoil in financial markets.
As economic growth in China moderated and capital outflows picked up steam, market participants have become focused on how the world's second-largest economy will resolve the so-called "impossible trinity."
Under the Mundell-Fleming model, an economy can choose only two of three following options at the same time: a fixed exchange rate, independent monetary policy, and an open capital account.
The liberalization of China's capital account coupled with recent measures to ease monetary policy have left Beijing in the unsustainable position of being in defiance of this impossible trinity, Bernanke wrote in a blog post. Attempts to bolster the economy via monetary accommodation have increased the incentive for capital to flow out of the country, which is a negative for the currency.
"An economy that is growing more slowly, and in which monetary easing is the principal macroeconomic response, is not an economy that offers high returns to domestic savers," he explains. "Consequently, Chinese households and firms who are able to do so are spurning yuan-denominated investments and looking abroad for higher returns. However, increased private capital outflows also constitute a flight from the yuan toward the dollar and other currencies; that, in turn, puts downward pressure on China's exchange rate."
The initial step Chinese policymakers took too resolve this trilemma, a relatively small devaluation of the yuan in August, proved disastrous, leading to carnage in financial markets and fostering expectations of further depreciation.
"China's ability to manage its exchange rate may depend, among other factors, on its willingness and ability to adjust on other policy margins," said Bernanke.
China could resolve this conundrum with a meaningful one-off devaluation of its currency or by enacting capital controls to stem outflows, he wrote. But a better alternative, according to the former Fed Chair, is for China to use government spending to give growth a lift and help facilitate the desired rebalancing of economic growth towards domestic demand. That means helping consumers, not engaging in massive infrastructure projects.
"Fiscal policies aimed at increasing income security, such as strengthening the pension system, would help to promote consumer confidence and consumer spending," Bernanke asserts. "Likewise, tax cuts or credits could be used to enhance households' disposable income, and government-financed training and relocation programs could help workers transition from slowing to expanding sectors."
Despite interest rates across the world at low levels and some central banks in negative territory, there has been an apparent reluctance in advanced economies (outside of Canada) to run expansionary fiscal policy at the federal level. The former Fed Chair expressed support for recent policy reform goals announced by Beijing, which include a restructuring of inefficient state-owned enterprises and monetary support for those laid off as a result.
Doing this in China would buoy growth, and unlike stimulative monetary policy that results in lower interest rates, wouldn't encourage more capital outflows, Bernanke concludes.
Read the full blog post here.
Before it's here, it's on the Bloomberg Terminal.
LEARN MORE