Why Draghi's Words Could Also Matter If ECB Boosts Stimulus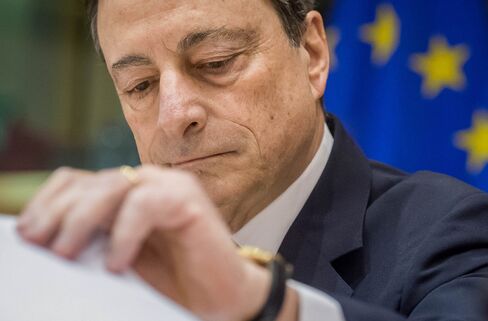 Forward guidance could be a key tool for ECB head on March 10

Central banks have tested multiple ways to steer investors
Mario Draghi's monetary toolkit includes a somewhat rusty item that he doesn't want anyone to forget: forward guidance.
QuickTake Europe's QE Quandary
The European Central Bank president first pledged in 2013 that interest rates will be low "or lower" for an extended period, and officials decided in January that those words needed reaffirming to reassure investors of a willingness to keep policy loose. Now, with markets signaling yet more easing this week that will take rates closer to the lower bound -- wherever that may be -- Draghi might need to strengthen his guidance to ensure any stimulus package hits home.
A lesson here is the experience of December, when Draghi's equivocation by saying the rate cut announced then would be "adequate, period" helped spark a market selloff. Greater emphasis on the duration and bias of the ECB's stance this time round could help convince investors that any stimulus announced doesn't have to be the last.
"In addition to the tangible action from the ECB, the communication on the potential for further action is also important to reduce the chances of repeating December's 'disappointment,'" said Nick Matthews, head of European research at Nomura International Plc in London. It "would send the right signals for the potential for further rate cuts and underscore that interest rates will remain low and policy accommodative for a long time."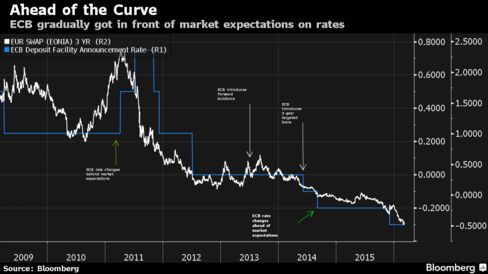 While the size of any fresh stimulus probably matters at least as much as forward guidance, central bankers need to convince the market that they'll stick with the program. As well as its rates pledge, the ECB has so far committed to buying 60 billion euros ($66 billion) a month of bonds until "at least" March 2017, to reinvest the money from maturing debt under quantitative easing, and to expand the ECB's balance sheet.
The ECB's stimulus drive takes place against the backdrop of a slow but steady recovery, which nevertheless isn't resulting in higher inflation. Higher spending by households and governments drove growth in the fourth quarter, when output expanded by 0.3 percent, final data released by the European Union's statistics office on Tuesday showed.
Extending QE further would imply that rates won't rise before the program ends. Draghi could even say borrowing costs will stay at or below current levels until some time after bond purchases have run their course.
The introduction of a tiered system for the deposit rate, an option that officials have discussed, would free greater room to cut the rate further below zero by easing the burden on banks. That would lend credibility to the guidance.
Should the central bank care to borrow strategies from its peers, the U.S. Federal Reserve and Sweden's Riksbank offer models.
"To really have an impact the ECB would have to change their framework to something like a rate forecast as in Sweden or the dot-plot at the Fed," said Anatoli Annenkov, senior economist at Societe Generale SA in London. "It's not a concept that has been particularly efficient in other jurisdictions though."
Still Valuable
Guidance can also be easier said than done. Bank of England Governor Mark Carney tied his rates promise in August 2013 to unemployment, only to backtrack within months as joblessness fell faster than expected. The Fed was pushed to change its year-old forward guidance back in early 2014. It had been targeting 6.5 percent unemployment, but that level was reached long before the central bank was prepared to raise interest rates.
Policy makers have shown that they still value the tool. At the Group of 20 gathering of finance ministers in Shanghai last month, Carney reiterated its effectiveness for delivering easing by bolstering confidence.
In March 2015, the Fed dropped the assurance that it would be "patient" in raising rates as part of its effort to shift policy to a meeting-by-meeting basis. It then reintroduced guidance in its October statement, specifically mentioning its "next meeting" as a candidate for a rate hike.
The account of the ECB's January decision shows that policy makers decided to refer expressly to the "or lower" formulation of forward guidance that had last been used in May 2014. They said it would "reassure markets about the need to maintain the current accommodative monetary policy stance for a long time to come."
Inflation Overshoot
Should they decide to go further this time, there remains another option, which the account shows was suggested by at least one policy maker. The ECB could promise to overshoot its inflation goal for a temporary period.
While that may be a way off -- inflation last month was minus 0.2 percent compared with a goal of just under 2 percent -- it would help to allay any concern that officials will react to rising prices too quickly. In 2011, when oil was pushing consumer prices higher faster than the ECB wanted, it lifted rates on the verge of a recession.
"The ECB of the past would raise rates too soon, choking off a mild recovery," said Christian Odendahl, chief economist at the London-based Centre for European Reform. "What markets need to know is that the ECB is willing to let inflation overshoot for a while until the recovery is completed, before it starts normalizing rates. More of the same in terms of forward guidance is not going to achieve that."
Before it's here, it's on the Bloomberg Terminal.
LEARN MORE