Activists Get Pickier in 2016, Starting Fewer Campaigns: Chart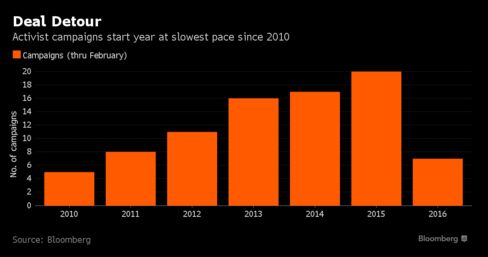 Even though U.S. political campaigns have heated up in 2016, corporate activist agitation has reached its slowest pace in six years, according to Bloomberg Intelligence analysis and Michael Thieme of Bloomberg Data. Jana Partners, Starboard Value LP and others among a select group of 33 activists had initiated only seven campaigns through the end of February -- and nine through March 4 -- at companies including Team Health Holdings Inc. and Marvell Technology Group. Those targeted have outperformed their industry by an average of 11 percentage points through last Friday, helped by the campaigns.
Before it's here, it's on the Bloomberg Terminal.
LEARN MORE