Utility Investor With Ties to Buffett Joins World's 400 Richest
Scott can exchange Berkshire Energy stake for 1% of parent

Unit's rising value highlights its appeal amid market turmoil
The words "magnate" and "billionaire" aren't usually linked with the utility industry. But for Walter Scott, a board member at Berkshire Hathaway Energy Co. and a friend of Warren Buffett, the connection means a net worth of $3.9 billion.
Scott, 84, the only utility billionaire from the U.S. on the Bloomberg Billionaires Index, joins the ranking after seeing his net worth rise 5 percent in the past year. The energy unit recorded a 5.3 percent increase in value in the 12 months ended Jan. 31, 2016, according to a Bloomberg analysis of its 2015 annual report.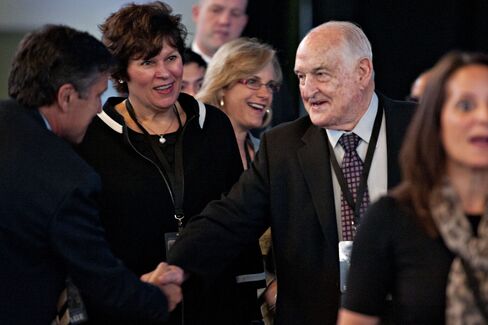 "It's typically not a sexy area to invest in," said Andy Smith, an analyst at Edward Jones in St. Louis. "It takes a lot of capital investment and is heavily regulated."
Such restrictions have helped insulate utility companies from the tumbling markets, with the Standard & Poor's 500 Utilities Index jumping 8.2 percent this year compared with a 2.2 percent fall for the S&P 500.
The Berkshire unit increased net income 13 percent to $2.4 billion in 2015 amid higher profit from its transmission business, according to the filing, which was released Feb. 29. The division's equity value rose $1.9 billion to $39 billion as of Jan. 31, 2016, based on the implied value of Scott's stake. That compares to the roughly $2 billion of cash the pair put in when they agreed to take the business private in 1999. Scott is ranked No. 373 on the index, 370 places below his long-time pal, who is the world's third richest person with $64.9 billion.
Scott and Buffett didn't immediately respond to e-mailed requests for comment. A Berkshire Hathaway Energy spokeswoman declined to comment and directed queries to Scott's foundation.
Management Buyout

The billionaire, who was previously chairman of closely held contractor Peter Kiewit Sons' Inc., built up the largest individual stake in utility MidAmerican Energy Holdings Co. in the 1990s. He sold Buffett on the value of the utility's steady earnings and they teamed up with then chief executive David Sokol to take the company private for $9 billion in 1999.
Scott ponied up his stake for a minority holding in the new Berkshire division, which began a series of acquisitions while eschewing dividends, eventually assembling ownership of electric grids in the U.K., natural gas pipelines that stretch from the Great Lakes to Texas and power companies in states including Iowa and Nevada.
He and his family own 9.1 percent of the subsidiary, which is exchangeable for 2.2 percent of Berkshire Hathaway Inc.'s Class A stock, according to the 2015 annual report. That stake is valued at $3.5 billion as of Jan. 31, 2016, according to Bloomberg calculations. He also has $350 million in cash, as well as direct stakes in Berkshire Hathaway, Valmont Industries Inc. and Level 3 Communications Inc.
Before it's here, it's on the Bloomberg Terminal.
LEARN MORE