S&P 500 Closes Little Changed as Energy Rally Offsets Tech Slide
Brent crude oil tops $40 a barrel, spurring energy shares

Tech, consumer discretionary shares lag after recent gains
The Standard & Poor's 500 Index edged higher, tying its longest rally in more than a year, as commodity producers surged with crude oil to offset declines in technology and consumer shares while investors assessed China's growth prospects.
Energy companies in the S&P 500 continued to rise after their best weekly advance since October as crude prices jumped. Exxon Mobil Corp. increased 2.6 percent to a four-month high. Monsanto Co. added 3 percent as the raw-materials group erased 2016 losses. Microsoft Corp. and Apple Inc. slipped at least 1.1 percent to weigh on tech, while Netflix Inc. sank 6 percent. Nike Inc. and Amazon.com Inc. fell more than 2.2 percent.
The S&P 500 advanced 0.1 percent to 2,001.76 at 4 p.m. in New York, remaining at its highest since Jan. 5 and rising for a fifth day to tie similar winning streaks last October and in December 2014. The gauge closed above its average price during the past 100 days for the second time this year. The Dow Jones Industrial Average rose 67.18 points, or 0.4 percent, to 17,073.95. The Nasdaq 100 Index fell 0.6 percent, while the Russell 2000 Index gained 1.1 percent.
"The big story again is commodities with oil just continuing to move up and breaking $40 which it hasn't done in awhile," Thomas Garcia, head of equity trading at Thornburg Investment Management Inc. in Santa Fe, New Mexico, said by phone. "With the general market not up it seems like that's leading stocks. You're definitely going to get some short-covering by people who were short and panicking at this point."
China's leaders failed to announce specific measures to support the world's second-biggest economy at an ongoing annual legislature meeting, damping speculation of more stimulus. They set an expansion goal of 6.5 percent to 7 percent for 2016, down from last year's target of around 7 percent, and said they will permit a record-high budget deficit.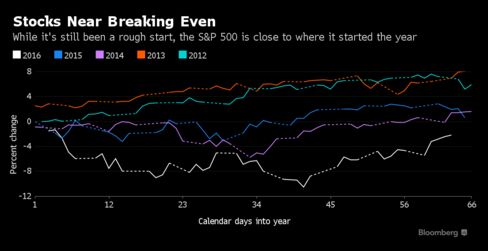 Investors will turn their attention later this week to the European Central Bank's policy meeting, and Federal Reserve officials will gather for their next two-day meeting on March 15. Traders are pricing in a less than one-in-10 chance the central bank will increase interest rates this month, with the probability rising to 45 percent by June. Odds for a December move are 72 percent.
Fed Vice Chair Stanley Fischer in remarks today contested the idea that the connection between low unemployment and inflation was broken, and said it may be reasserting itself now. Separately, Fed Governor Lael Brainard said the U.S. economy isn't immune to global risks and called for careful adjustments to the policy rate to preserve the expansion.
"We're likely to see a period of heightened volatility and it's a very frustrating environment," said Eric Wiegand, senior portfolio manager at the Private Client Reserve of US Bank in New York. "Expectations surrounding the ECB are going to be at play this week as certainly part of the bounceback we've seen over the last number of weeks has been part of the expectation that the ECB, Bank of Japan and - to an extent - the PBOC, would go to extraordinary measures to be accommodative."
The S&P 500 closed Friday at its highest since Jan. 5 after rising for a third straight week, the longest such stretch this year. The gauge rallied more than 9 percent after reaching a 22-month low last month, as oil prices stabilized and data has shown the world's largest economy weathering weaker growth abroad.
Shorts Cover
A rout in crude amid concerns that a slowdown in China would spread had helped weigh the benchmark equity index down as much as 11 percent this year on a closing basis, a drop that has since been trimmed to 2.1 percent. Energy and industrial shares last week erased their 2016 losses.
A Goldman Sachs Group Inc. index of the most-shorted shares has rallied 25 percent since Feb. 11, outperforming the S&P 500 by 15 percentage points, the most over any equivalent stretch in the gauge's history back to January 2008.
The Chicago Board Options Exchange Volatility Index rose 2.9 percent Monday to 17.35 after closing Friday near the lowest level this year. The measure of market turbulence known as the VIX fell nearly 15 percent last week. About 9 billion shares traded hands on U.S. exchanges, in line with the average in 2016.
Six of the S&P 500's main industries climbed today, with energy up 2.4 percent and raw-materials adding 1.2 percent. Technology companies declined 0.7 percent while consumer staples and discretionary shares lost more than 0.4 percent. Through Friday, discretionary stocks were the second-best performers since the benchmark's recent low on Feb. 11, rising nearly 12 percent. Tech shares were up almost 10 percent in the period.
Energy, Materials
Energy producers rose Monday to the highest level since Dec. 4. Murphy Oil Corp. soared more than 10 percent for a fourth day, and advanced for a seventh session amid the longest winning streak since September 2013. The shares are up 56 percent since Fed. 26. Chevron Corp. gained 3.1 percent, extending to its longest rally in four months.
Brent crude rose above $40 for the first time since December as major producers prepared to meet to discuss a production freeze and U.S. output finally shows signs of declining.
CF Industries Holdings Inc. increased 6.6 percent to lead raw-materials' advance as the group rose to the highest level since Dec. 29. Alcoa Inc. gained 4.9 percent, up for the fifth time in six days to its highest this year. Steelmaker Nucor Corp. added 4.2 percent to a six-month high. Iron ore soared the most ever after Chinese policy makers signaled their willingness to buttress economic growth, boosting the outlook for steel consumption in the top user.
Iron ore miner Cliffs Natural Resources Inc. surged nearly 19 percent to bring its climb in the last six sessions to over the period to 88 percent. Another miner, Tronox Ltd. jumped 21 percent to a four-month high.
Software companies were the worst performers within the technology group, slipping for a third consecutive session, the most in almost four weeks. Facebook Inc. and Google parent Alphabet Inc. lost at least 2.3 percent. MasterCard Inc. fell 1.9 percent, and Visa Inc. declined 2.7 percent, the most since Feb. 8 after falling below its 50- and 200-day moving averages.
The Nasdaq Internet Index retreated 1.4 percent, the most in two weeks after rallying 15 percent since Feb. 11. Netflix capped the biggest drop in a month, and Amazon slid for a third day, falling 2.2 percent to drag down the consumer discretionary group. Nike Inc. lost 3.3 percent, the most in four weeks. The New York Times reported the company is caught up in a corruption scandal in Kenya in which Nike has denied any wrongdoing.
Before it's here, it's on the Bloomberg Terminal.
LEARN MORE