RWE Bond Yield Gap to EON Widest Since 2013 as Spinoff Looms
Cost of insuring RWE debt rises to highest in five months

RWE is still working on capital structure after spinoff
The premium of RWE AG bonds over its biggest competitor has risen to its widest in more than two years as bondholders are still in the dark over where debt will end up in the German utility's spinoff of its grid and renewables business.
The additional yield investors demand to hold RWE's five-year notes instead of similar EON bonds widened to about 63 basis points, or 0.63 percentage point, the biggest gap since October 2013, according to data compiled by Bloomberg. The cost of insuring RWE debt against default is at a five-month-high.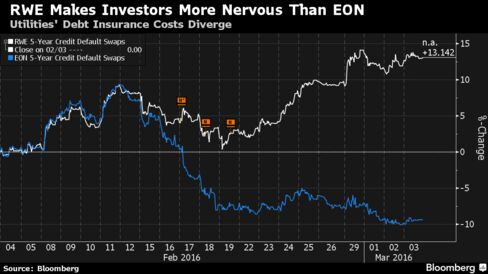 Germany's biggest power producer is hiving off its renewables and networks business in a survival strategy mimicking EON's as the country's shift to renewables forces them to expand beyond their traditional power-generation model. While EON has said it will keep all bonds with the renewables company, RWE has yet to clarify where it will place debt between its two future entities.
"Investors are still waiting for more information from RWE and what its rating will be," Nadege Tillier, senior utilities credit analyst at ING Groep NV, said in an interview in Amsterdam. "The difference is that EON has already said where the bonds will be located, making it easier to foresee credit metrics and ratings."
Capital Structure
RWE plans to sell about 10 percent of the new enterprise in an initial public offering later this year. While more stakes may also be sold, RWE intends to keep a majority.
"The capital structure is currently being worked out," Vera Buecker, a spokeswoman for RWE, said by phone from Essen. It's still not clear whether all existing bonds will stay under RWE or if some will be shifted to the new company, she said.
More information may be made public on Tuesday when RWE publishes its annual report. EON is announcing 2015 earnings on Wednesday.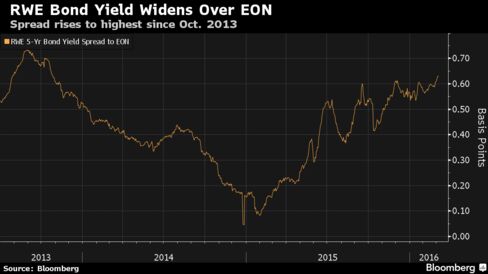 RWE's 1 billion euros ($1.1 billion) of 6.5 percent bonds due 2021 yield 1.5 percent, Bloomberg data show. That compares with 0.88 percent for EON's 5.75 notes due 2020. The utility has 15.9 billion euros of bonds outstanding. Credit-default swaps on RWE's debt have climbed 29 percent this year to 154 basis points, the highest since October, according to data compiled by Bloomberg. The cost of insuring EON's debt rose 6.7 percent to 105 basis points.
"The bonds would stay with the weakest part of the company if they remained with RWE AG," Tillier said. As RWE plans to reduce its stake in the new business to 51 percent over time, "investors could have limited access to stable cash flows from the grid and renewable business," she said.
Price Slump
German utilities are struggling with a threefold increase in renewable energy supply in the past decade that pushed wholesale power prices to the lowest since at least 2002. Adding to their burden are current government discussions about provisions for nuclear decommissioning they must set aside as the country shuts down all reactors by 2022.
The two factors were the main reason for Standard & Poor's and Moody's Investors Service to place RWE and EON under review for a rating downgrade in February. Fitch Ratings Ltd. said it's reviewing RWE's debt due to the uncertainty of the reorganization.
"A lot about the transformation project is not clear yet, we also need to wait a little bit how the nuclear debate evolves." Vittoria Ferraris, a utilities analyst at S&P, said by phone. "We will wait for input from the company and if need be reassess the issue ratings accordingly."
RWE's 12.3 billion euros of senior bonds and 4 billion euros of hybrid securities might not all fit on the new company's balance sheet, according to Ana Gaspar, an analyst at Fitch, who estimates its debt capacity to be about 12 billion euros.
"The best option would be to move the debt from RWE AG to the new company, but this is legally complicated," Gaspar said by phone Friday. "The second-best option would be to move only the senior unsecured bonds, leaving the hybrids at RWE AG, but there is uncertainty how this will be done."
Before it's here, it's on the Bloomberg Terminal.
LEARN MORE