Off-Campus College Dorms Now Resemble Spring-Break Hotels
Investors have poured billions into off-campus housing, building luxury complexes that resemble resorts
Two resort-style pools, with deckside cabanas. A beach volleyball court, professional-grade barbecues, and around-the-clock staff. Sounds like a good place for a college student to spend spring break—if she didn't already live there.
Purpose-built student housing such as the Stadium Centre apartments—the 710-bed complex described above, a short walk to Florida State University's Tallahassee campus—has become increasingly upscale over the past decade, driven by rising enrollments and an infusion of new capital. Investors seeking recession-resistant assets poured an estimated $4.5 billion into the properties last year, up from $3 billion the year before.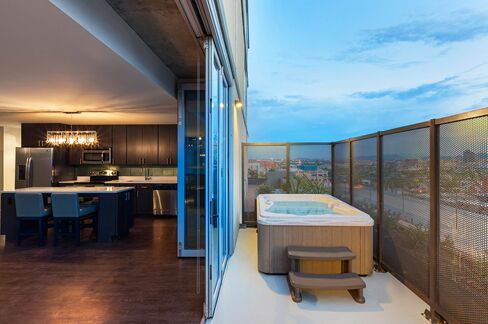 And—surprise, surprise—developers targeting college students are building private dorms that are more likely to resemble beach motels than libraries. Eighty percent of residents of off-campus student housing had access to a swimming pool, based on Bloomberg's analysis of 94 student housing complexes across the U.S. Fifty-five percent lived in properties with on-site tanning salons, while 45 percent have beach volleyball courts. Just 38 percent offered dedicated study rooms.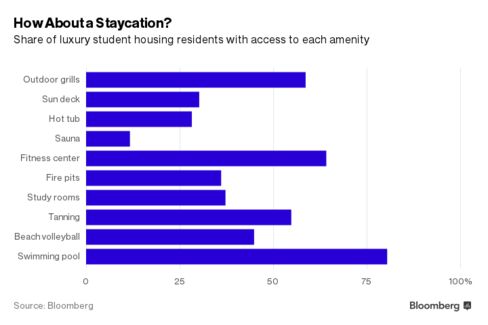 The data were compiled from lists of amenities offered at off-campus student housing facilities completed since 2010 and operated by one of the three real estate investment trusts that specialize in student housing.1 We weighted the findings to account for the number of beds in each residential project. For example, 10 properties in the dataset had yoga studios, or about 9.4 percent. But those properties accounted for 11.3 percent of total beds.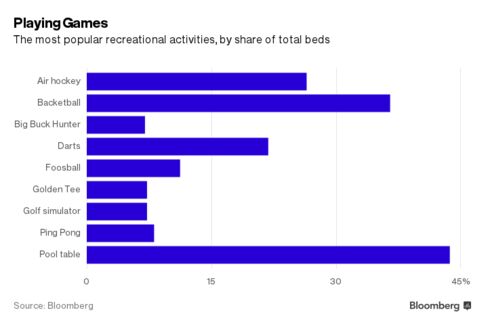 Focusing on properties operated by the largest student landlords does not completely capture the breadth of luxe offerings from smaller players in student housing. For instance, One West Victory, Jamestown Properties' two-year-old student housing complex in Savannah, Ga., offers valet trash service, laundry machines that text students when a load is done, and a restaurant by James Beard Award winner Hugh Acheson.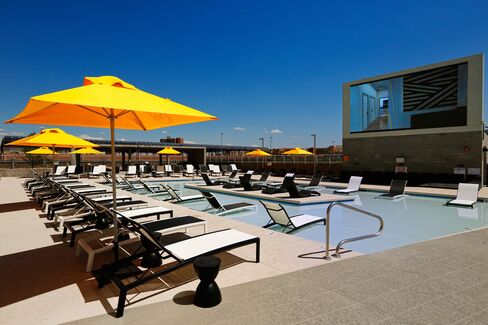 Here is a partial list of the types of pools that students are swimming in, according to the apartment complex websites:
"resort-style swimming pool"
"spa-style swimming pool"
"heated saltwater pool"
"lazy river, oasis pool, hot tub and misting system"
Leasing rules can vary depending on the landlord and property, but most of these apartments are rented only to college students. Which is too bad for them—who knows how long it will be before they live somewhere this nice again.
Before it's here, it's on the Bloomberg Terminal.
LEARN MORE