Najib Vows `We Will Continue' as Malaysian Critics Team Up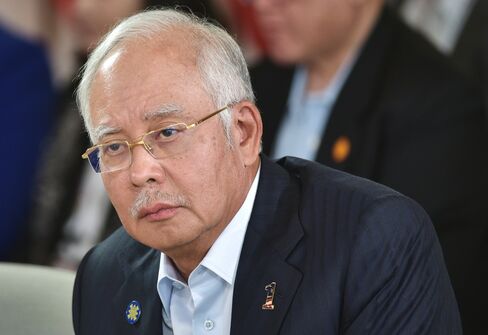 Former premier Mahathir leads opposition group to topple Najib

Najib facing biggest crisis since coming to power in 2009
Malaysian Prime Minister Najib Razak said his government has the mandate and the majority to rule, brushing aside increased efforts by his critics to remove him from office.
The government's focus is on economic development, and the level of confidence people have in the administration will become clear at the next polls, Najib told reporters in Johor state on Sunday. An election is due by 2018 after the ruling coalition won in 2013 with its slimmest margin yet.
"As far as we are concerned, the litmus test will be when it comes to election time," Najib said. "At the moment the government will continue as we have the mandate, we have the numbers in parliament and the party is also behind the government. We will continue."
Malaysia's economic growth and investments are slowing, while businesses and consumers face price pressures as the government removes subsidies and after the implementation of a goods and services tax last year. Najib is giving bigger cash handouts to lower-income households to help them cope with rising costs, a move that may also shore up his support within the United Malays National Organisation's main voting base -- rural, ethnic Malays.
Najib is facing his biggest political crisis since coming to power seven years ago as questions linger over $681 million which appeared in his personal accounts before the 2013 polls, funds he said were a donation from the Saudi royal family. Attorney General Mohamed Apandi Ali in January closed the door on a graft probe, clearing Najib of wrongdoing over the "personal contribution" and saying the premier later returned $620 million that was not utilized.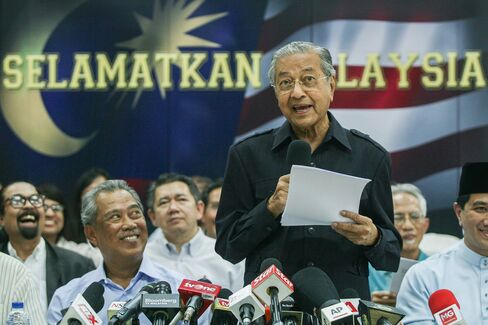 Former leader Mahathir Mohamad is waging a public campaign to get the premier out, with Mahathir warning the coalition led by Najib's party risks losing office if he stays on. Mahathir led opposition and civil society groups on Friday in calling for the removal of Najib through non-violent and permissible ways, a move the government said showed the depth of "political opportunism and desperation."
'Too Long'
Politicking for the benefit of narrow self-interests is hurting the Malaysian government and its people, King Abdul Halim told parliament on Monday at the opening session for the year. He's also the sultan of Kedah state.
"It has been going on for too long," the king said, speaking in Malay. "In a parliamentary democracy, differences in opinion are valued, but refrain from fostering enmity and slander that can lead to the downfall of the nation."
Integrity and governance must be strengthened to address negative perceptions on corruption, malpractice and misuse of power, the king said.
Najib has repeatedly denied any wrongdoing over the funding scandals, saying last year he and Mahathir disagreed over economic policies and that no "individual, however eminent" should try to interfere with his leadership. He retains the backing of the bulk of UMNO's powerful divisional chiefs and the opposition remains weak, its coalition having imploded after then-leader Anwar Ibrahim was sent to jail again last year on a sodomy conviction, a charge he denies.
Anwar Backing
Anwar, a one-time deputy to Mahathir who was fired after a dispute over economic policies in 1998, is backing his former mentor in efforts to topple Najib. Najib's predecessor Abdullah Ahmad Badawi stepped down in 2009 as his popularity within UMNO faded, fueled in part by resignation calls from Mahathir, although Mahathir's influence has faded in recent years.
To limit the risk to his support level among ethnic Malays from Mahathir's attacks, Najib is bringing UMNO closer to the main opposition Islamic party. In courting PAS, as the opposition party is known, Najib said in December to beware the possibility of the country being governed by a party that is not Islamic.
PAS has advocated Shariah law -- which allows for stoning or amputation for certain crimes -- in a state it governs, a policy that sat uneasily with its former coalition partners in the opposition camp.
The king said Monday that while he supports initiatives to uphold Islam as the official religion, other faiths can be practiced freely and people should avoid stoking racial tensions.
"We hope all efforts taken will soon be implemented to strengthen religious institutions and enhance administration of Islamic laws by empowering the Shariah courts," he said. "Religious issues should be referred to the relevant authorities and not subjected to interpretation by any individuals or groups as this could cause unnecessary confusion and friction within society."
Before it's here, it's on the Bloomberg Terminal.
LEARN MORE