Five Things You Need to Know to Start Your Day
Get your week started.
Want to receive this post into your inbox every morning? Sign up here.
It's a big moment for China, Super Mario Draghi, and last night's debate. Here are some of the things people in markets are talking about today.
China FX reserves stabilize
China's foreign-exchange reserves fell at a slower pace last month as the nation's financial markets stabilized and policy makers took more steps toward shoring up growth. The world's largest currency hoard dropped by $28.6 billion to $3.2 trillion in February, the smallest decline since June, and less than the $40.9 billion decrease expected by economists surveyed by Bloomberg. Meanwhile, researchers at the Bank for International Settlements found in a paper that recent outflows from China were likely the result of Chinese corporates paying dollar debt as opposed to capital flight.
All eyes on Mario Draghi
The European Central Bank will meet this week in a gathering widely expected to result in further stimulus measures. The big questions being how big and in what form? Economists in a Bloomberg survey are nearly unanimous in predicting action. The results of the poll signal what officials might have to deliver if they want to avoid a repeat of December, when a tweak to stimulus underwhelmed investors and sparked a market selloff. Just three months on, with consumer prices falling again and the outlook worsening, the central bank faces a critical test of its credibility. HSBC's Global Head of Fixed Income Research Steven Major is warning markets not to underestimate the ECB president, amidst a debate over the future of more than $2.5 trillion of euro-area government debt with negative yields.
Chinese taxes
China is planning to overhaul its tax system in a bid to boost consumer demand, which is seen as a weak link in the economy. Finance Minister Lou Jiewei says the government is planning to create more income tax deductions to help families out with such things as education expenses, raising children and mortgage interest. Meanwhile, iron ore is surging on China's overall plans to continue stimulating its economy.
A mixed morning in markets
Shares in Europe fell, while the dollar and German bonds climbed, as investors assessed the impact of China's growth plans as well as the potential for European Central Bank stimulus measures this week. The Stoxx 600 was down 0.80 percent as of 6:07 a.m. in New York, while the Shanghai Composite was up 0.81 percent. Meanwhile, oil has advanced to its highest level in two months and iron ore jumped 19 percent to $63.74, its biggest one-day gain on record.
On the campaign trail
Hillary Clinton echoed some of Bernie Sanders' outrage in last night's Democratic debate, joining calls for Michigan's governor to resign over the Flint water crisis. Both candidates criticized America's fracking industry, but sparred over U.S. trade agreements and the auto industry bailout, with Clinton saying the American auto industry would have collapsed if Sanders had succeeded in blocking its rescue.
What we've been reading
This is what's caught our eye over the last 24 hours.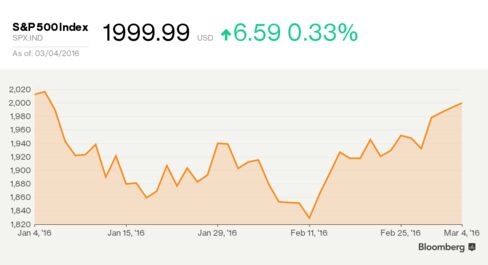 Before it's here, it's on the Bloomberg Terminal.
LEARN MORE