Beset Miners Reap Outsized Gains in Metals-Rally Eclipse: Chart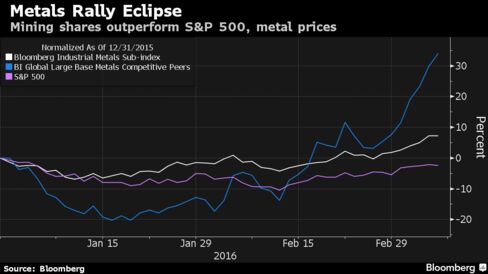 If you think copper, zinc and other industrial metals are having a good year, take a look at the companies supplying them. An index of 18 large producers including Freeport-McMoRan Inc. and Glencore Plc has jumped 35 percent this year, surpassing gains in the materials they mine after the gauge lost the most in seven years in 2015. The impact of rising metals prices is being "magnified" for the companies given their fixed costs, helping them top broader stock indexes, according to Alan Gayle, senior strategist for Atlanta-based RidgeWorth Investments, which has about $37 billion in assets.
Before it's here, it's on the Bloomberg Terminal.
LEARN MORE