Aquino in $6.5 Billion Push for Philippine Infrastructure Legacy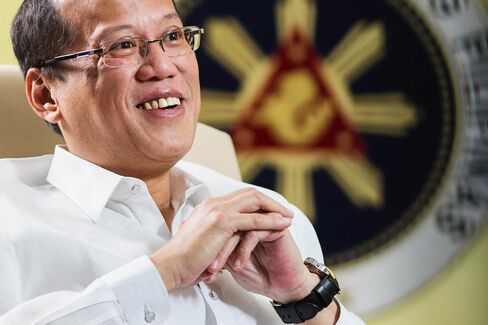 11 projects up for bidding before Aquino's term ends in June

President to hand over more than 50 projects to successor
The Philippines plans to solicit bids for $6.5 billion worth of projects from roads to airports before President Benigno Aquino's six-year term ends in June, seeking to leave his successor a robust pipeline of infrastructure deals.
Eleven projects, including a $2.6 billion highway and land reclamation, will be up for grabs in coming months, from a list of 50 deals that will be handed to the next administration, said Andre Palacios, 45, the new head of the agency overseeing big-ticket infrastructure projects.
"We already have a good number of investors who are pre-qualified as bidders, and they have put their money where their mouth is," said Palacios, executive director of the Public-Private Partnership Center. On Tuesday he replaced Cosette Canilao, who resigned for family reasons.
"We are gift wrapping these projects for the next administration so they can hit the ground running," Palacios said in an interview Monday in Manila.
Aquino has awarded 12 projects worth $4.2 billion since 2010, including the expansion and operation of a railway in Manila and a toll road connecting the provinces of Cavite and Laguna. The improvements aim to draw investors, who have identified poor infrastructure as a deterrent to putting money in the Philippines. All five politicians vying to succeed Aquino have pledged to make infrastructure a priority.
The infrastructure agency also will work with Congress to pass the PPP Act, which aims to minimize risks to investors, make joint ventures more transparent and create a contingent liability fund for unexpected costs in cases where the state can't meet its commitments, Palacios said.
Projects under the PPP are not included in the election ban on procurement starting this month. The elections and policy uncertainty after Aquino are among risks related to PPP projects, BMI Research said in a Dec. 2 note.
The 11 projects Aquino intends to bid out before stepping down are:
* Operation and maintenance of LRT Line 2 in Manila
* Regional prison facilities - 50.18 billion pesos ($1.1 billion)
* Davao Sasa Port modernization - 18.99 billion pesos
* New Bohol Airport operations, maintenance, development - 2.34 billion pesos
* Laguindingan airport operations, maintenance, development - 14.62 billion pesos
* Davao airport operations, maintenance, development - 40.57 billion pesos
* Bacolod airport operations, maintenance, development - 20.26 billion pesos
* Iloilo airport operations, maintenance, development - 30.40 billion pesos
* Laguna Lakeshore road/dike project - 122.80 billion pesos
* Road Transport IT Infra project - 298 million pesos
* Civil registry system information technology project - 1.59 billion pesos
"These projects are long overdue, urgently needed and will have a great impact on Filipinos," Palacios said. "Every day of delay will inconvenience the public."
Before it's here, it's on the Bloomberg Terminal.
LEARN MORE