Vanishing Profits Don't Stop Resurgence in Energy Stocks: Chart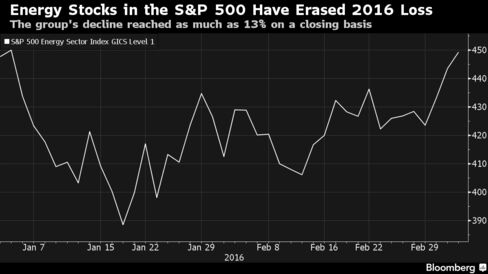 Energy stocks in the Standard & Poor's 500 Index erased losses for 2016 on Thursday, eking out a year-to-date return of 0.2 percent. Producers have benefited from a rebound in oil, which has advanced 17 percent in the last two weeks, as trader sift through data on inventories and production of the commodity. Meanwhile, analysts have only grown more bearish, projecting last week the sector's earnings will contract by 53 percent in 2016, after estimating they will shrink by 50 percent on Feb. 12.
Before it's here, it's on the Bloomberg Terminal.
LEARN MORE