Treasuries Set for Third Weekly Loss as Jobs Seen Picking Up
U.S. government securities have fallen 0.5% in three weeks

Economists forecast employers added 195,000 jobs last month
Treasuries headed for a third weekly loss as economists said the monthly U.S. employment report Friday will show job growth quickened while wage gains slowed from the fastest pace in a year.
U.S. government securities have fallen 0.5 percent over the period, based on the Bloomberg U.S. Treasury Bond Index. A flight to quality that sent investors rushing to Treasuries earlier this year is easing, allowing traders to focus on the economy, where the latest data are showing improvement from manufacturing to employment.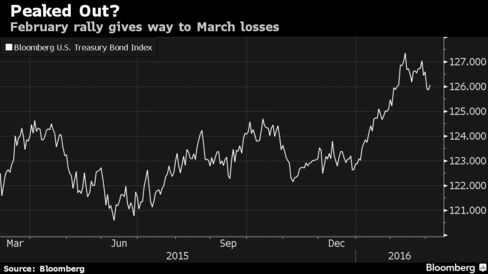 "The last few sets of U.S. data have not been as bad as feared," said Jens Peter Soerensen, chief analyst at Danske Bank A/S in Copenhagen. "If you get a decent non-farm payrolls number we could see Treasuries lose a bit more" and people will think whether they "probably have priced in too much softness from the Fed."
Benchmark 10-year note yields were little changed at 1.83 percent as of 6:59 a.m. New York time, according to Bloomberg Bond Trader data. The price of the 1.625 percent security due in February 2026 was 98 1/8. The yield has increased seven basis points, or 0.07 percentage point, this week.
U.S. employers hired 195,000 workers in February, after adding 151,000 in January, based on a Bloomberg survey of economists before the report.
Average hourly earnings, an inflation gauge, rose 0.2 percent, the survey showed. The figure was 0.5 percent in January, the highest level in 12 months.
Inflation Outlook
Wages will help Federal Reserve policy makers gauge the outlook for inflation, which has recently shown signs of moving closer to their goal. The central bank's preferred inflation index climbed to 1.3 percent in January, the highest level since October 2014, government figures last week showed. It has been below the Fed's 2 percent target since 2012.
"Treasury yields will go up," said Hideaki Kuriki, a debt investor in Tokyo at Sumitomo Mitsui Trust Asset Management, which oversees $58.7 billion. "The economic indicators are recovering. Inflation is recovering."
Kuriki said his Treasury holdings have shorter durations than the benchmark he uses to gauge performance. He said he plans to end the short position if 10-year yields approach 2 percent. Duration is a metric investors use to gauge a bond's sensitivity to changes in yield, and a shorter position reflects a more bearish outlook.
Samsung Asset Management Co. has a more bullish view on Treasuries. The European Central Bank will probably do more to push bond yields down in its region at a meeting March 10, which will make U.S. yields more attractive, said Wontark Doh, the head of overseas fixed-income investment in Seoul.
ECB Meeting
"If the ECB cuts rates next week, that will increase demand for U.S. Treasuries," he said. Samsung Asset is South Korea's biggest private money manager, overseeing $200 billion.
U.S. 10-year notes yield 163 basis points more than their German counterparts, about triple the average for the past decade. ECB President Mario Draghi indicated in February the central bank is prepared to act to support the economy.
Treasury yields will probably rise through the course of 2016, based on a Bloomberg survey of economists. The 10-year benchmark will climb to 2.39 percent by Dec. 31, according to the responses, with the most recent forecasts given the heaviest weightings.
Before it's here, it's on the Bloomberg Terminal.
LEARN MORE