Seadrill Jumps as Fredriksen Builds Cash, Short Bets Covered
Shares rise 39% in Oslo, biggest daily gain since 2005 listing

Driller working on restructuring biggest debt load in industry
Seadrill Ltd., the offshore driller with the heaviest debt load, rose the most on record as investors covered short bets after the company's main owner, billionaire John Fredriksen, this week raised $510 million in cash, fueling speculation of a bailout.
Seadrill surged 39 percent to 29.2 kroner, the biggest daily gain since it was listed in Oslo in 2005. Almost 13 million shares were traded, 2.3 times the daily average over the past three months.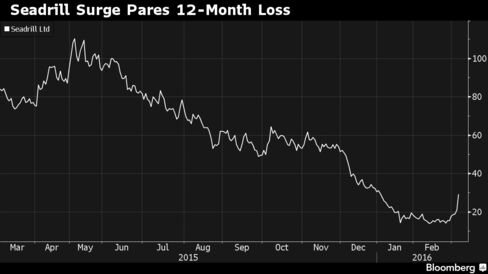 Contracts betting on a decline in the shares fell to about 14 percent of the tradable stocks from as high as 22 percent in November, according to data from Markit and Bloomberg. Earlier this week, Fredriksen sold a third of his shares in salmon farmer Marine Harvest, spurring talk he could be getting ready to invest more in Seadrill. The driller has said it will come out with a plan to restructure almost $11 billion in debt by end of June.
"It's short-covering within the industry -- the entire rig sector is heavily shorted," Lukas Daul, an analyst at ABG Sundal Collier Holding ASA, said by phone. "In addition, some may think that with the sale realized in Marine Harvest, Fredriksen has more money to contribute with regards to Seadrill."
Seadrill's funding plan is likely to involve the issue of at least $1 billion in new equity, according to analysts including Janne Kvernland of Nordea Bank AB. The participation of Fredriksen, who owns about 24 percent of the company, will be key, she said earlier this week.
An adviser for Fredriksen and a spokesman for Seadrill didn't immediately reply to calls and e-mails seeking comment.
Seadrill rose 15 percent in U.S. trading yesterday, while rivals Ensco Plc gained 14 percent and Transocean Ltd. 10 percent as Brent crude rose for four straight sessions to the highest level since early January. Rig companies have been battered by the oil-price collapse since the middle of 2014, with spending on drilling plunging, reducing demand just as a wave of new rigs strengthened supply. Seadrill has fallen 65 percent over the past 12 months.