No Longer a Blue Chip, Noble Group Surges to Erase 2016 Losses
Shares jump to highest since December after changes to STI

Regaining investment-grade rating is priority, analyst says
Noble Group Ltd. surged on Friday, erasing 2016 losses as investors looked beyond the commodity trader's loss of its decade-long blue-chip status in Singapore.
Shares in the Hong Kong-based company -- which will be removed from the Straits Times Index after a regular review -- rallied as much as 12 percent to 42.5 Singapore cents on Friday, and finished the session at 42 cents. The stock, which has rebounded from an intraday low of 26.5 cents on Jan. 18, ended 2015 at 40 cents after a tumultuous 12 months that culminated in a downgrade to junk by ratings agencies and a full-year loss.
"Those who have sold, would have sold on the way down, we don't see a big impact" from the STI change, said Carey Wong, an analyst at Oversea-Chinese Banking Corp., who rates the company as a 'hold.' "The first thing they want to do is to restore their investment grade."
The removal from the index, announced by compilers after the close of trade on Thursday and takes effect from March 21, follows the 65 percent plunge in the trader's market value last year as Noble Group reported the first annual loss in almost two decades and executives batted away allegations of misleading accounting. The slump was accentuated as investors shunned commodity-linked companies during a rout in raw materials, leaving Noble Group the smallest constituent in the 30-member gauge.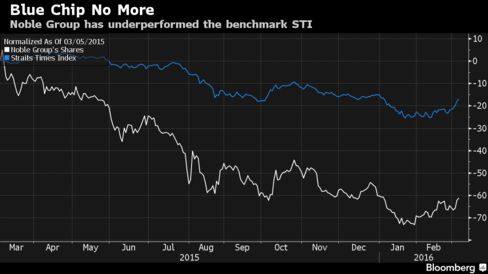 "Sentiment is turning positive on Noble, the worst is over," said Nirgunan Tiruchelvam, an analyst at Religare Capital Markets in Singapore, who has backed the company to recover and described the stock as a bargain. "There have been lots of people betting against the company, taking short positions. They may be disappointed."
Noble Group advanced 18 percent this week as a risk-on tone has returned to global financial markets, buoying equities and commodities. Asian shares rose on Friday and oil headed for a third week of gains.
Hours before the announcement of the changes to the STI's membership, Noble Group said that it had received $750 million from the sale of its 49 percent stake in Noble Agri Ltd. The company is seeking to pay down debt, and is also in talks to refinance a revolving-credit facility with its lenders.
An external media representative at Bell Pottinger LLP declined to comment on Friday. In January, Chairman Richard Elman said he planned to make Noble Group into a smaller, more nimble company, according to comments to Reuters in which he added that plans to bring in new investors were taking time.
"Being part of the index does confer a kind of prestige," Bernard Aw, a strategist at IG Asia Pte, said by phone. "Now that they've been taken off the index, there might be a drop in liquidity for Noble shares. That makes it more difficult for the company to raise equity financing."
Before it's here, it's on the Bloomberg Terminal.
LEARN MORE