Lansdowne, Odey Said to Lose as Market Turmoil Hits Hedge Funds
Managers lost on share declines in January, shorts in February

European long-short equity funds lost 3.9% in first two months
As European hedge funds that bet on stocks post the worst start to the year since at least 2000, managers from Stephen Roberts to David Craigen are said to have lost more than 10 percent.
The Lansdowne European Equity Fund, with $517 million of assets managed by Craigen, lost 11.4 percent through Feb. 19, a person with knowledge of the matter said, asking not to be identified as the returns are private. A Lansdowne spokesman declined to comment.
Roberts' Horseman European Select Fund, which managed $566 million at the end of December, fell 22 percent in the first two months of the year, a spokesman said. Crispin Odey's main hedge fund, which oversees 1.6 billion euros, declined by 4.4 percent, a spokeswoman said.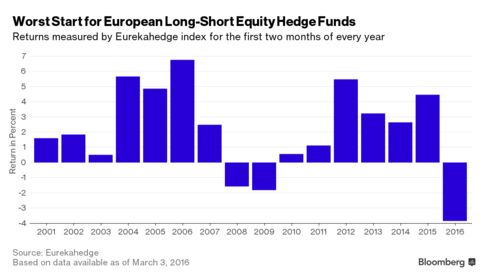 European equity long-short hedge funds lost an average of 3.9 percent through February this year, their worst decline in the period since Eurekahedge began compiling data 17 years ago. Losses when shares fell in January were compounded when managers decided to increase their short position in February, just before stocks rallied. Investors short companies by selling borrowed stock and seek to profit by buying it back later at a lower price.
"There was hardly a space to hide over January and February," said Miranda Ademaj, chief executive officer of fund of hedge funds Skenderbeg Alternative Investments. "A lot of long-short equity hedge funds, especially long-biased fund, suffered losses as stocks declined across sectors."
Global equity markets lost about $6.3 trillion in the first two months of the year, according to data compiled by Bloomberg, as investors grew concerned at slowing economic growth in China, negative interest rates in Japan and Europe and the impact of a decline in oil prices on corporate balance sheets and banks.
Banks stocks that are members of the STOXX Europe 600 Index led the falls, losing almost a fifth of their value, the data shows.
Before it's here, it's on the Bloomberg Terminal.
LEARN MORE