The Prospect of $1 U.S. Gas Has Hedge Funds Raising Short Bets
As far as hedge funds are concerned, the U.S. natural gas rout is far from over.
Money managers raised bearish bets for the sixth time in seven weeks as warm weather and an ever-expanding glut of the heating fuel threatens to drag prices down to $1 per million British thermal units in the coming weeks. It'd be a record low for the benchmark futures contract that began trading in 1990.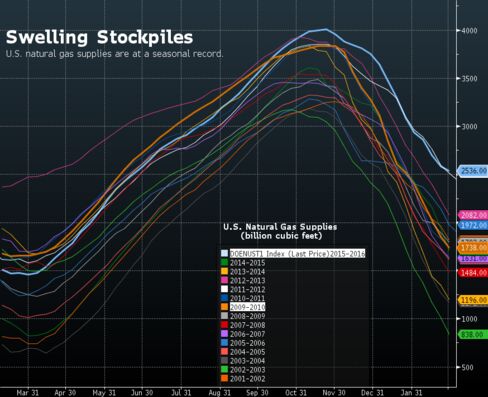 Gas supplies are at a seasonal record as the winter has failed to deliver a chill deep and long enough to eat into the glut. Production has meanwhile continued to flow out of shale formations. With gas's peak demand season coming to an end, prices are only poised to drop, testing new lows this spring, according to Consolidated Edison Inc. and Prestige Economics LLC.
"We can go as low as a dollar," John Borruso, director of natural gas trading at Consolidated Edison Inc.'s competitive energy business in Valhalla, New York, said in an interview Friday. "It's been a very slow walk down because we've all been reluctant to think it would go this low."
Net Short
Money managers increased their net-short position in U.S. gas contracts by 39 percent in the week ended March 1 to 91,219, the most since Dec. 29, according to the U.S. Commodity Futures Trading Commission. Long bets slid 4.7 percent as bearish wagers gained.
Gas futures slipped 4 cents, or 2.2 percent, to $1.742 per million Btu on the New York Mercantile Exchange in the seven days covered by the CFTC data. They touched $1.611 on Friday, the lowest intraday level since August 1998.
"This market could puke out in the next two to three months, maybe we get below a dollar," Jason Schenker, president of Prestige Economics, said in an interview at Bloomberg's headquarters in New York Friday. "The bears haven't even woke up from winter hibernation. They are hungry."
Before it's here, it's on the Bloomberg Terminal.
LEARN MORE