Fewer Than 100 Gas Rigs Drilling in U.S. as Rout Pains Producers
Here's one clear response to U.S. natural gas prices plunging to a 17-year low: For the first time in at least three decades, fewer than 100 rigs are drilling for the fuel.
Drilling rigs targeting gas slid by five to 97 in the week ended March 4, the least in data going back to 1987, Baker Hughes Inc. said Friday. There were about 900 working in gas fields five years ago.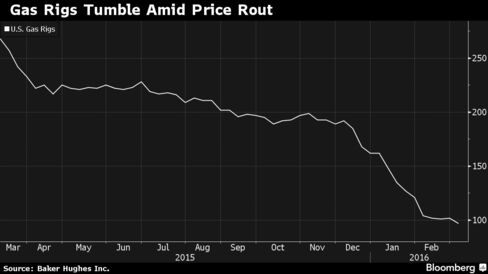 The declining rig count portends the drop-off in gas production that analysts have been calling all year as prices have slid. Bullish gas traders have been waiting for drillers to cut deeply enough to shrink output from shale formations and eat into the biggest supply surplus in four years.
"We must be getting to a point where gas production is finally turning the corner," Thomas Saal, senior vice president of energy trading at FCStone Latin America LLC in Miami, said by phone. "Drillers have become much more efficient, but that only gets you so far at these price levels."
Gas futures have slid as time runs out for winter cold to erode the inventory glut. Futures for April delivery dropped to $1.611 per million British thermal units in intraday trading Friday on the New York Mercantile Exchange, the lowest since Aug. 27, 1998, before climbing to $1.662.
Before it's here, it's on the Bloomberg Terminal.
LEARN MORE