Deutsche Bank Rebuffs Heta Bond Tender as Opposition Hardens
German bank's asset arm sees no justification for writedowns

Offer made by Austrian province of Carinthia expires March 11
Deutsche Bank AG dismissed Austrian Finance Minister Hans Joerg Schelling's last-minute effort to rescue a tender for 10.8 billion euros ($12 billion) of bad bank debt, putting the deal at risk of failure as a March 11 deadline looms.
The Austrian province of Carinthia is trying to buy bonds of Heta Asset Resolution AG to neutralize guarantees it gave for its former state bank. It's bidding 75 percent of face value for senior debt and 30 percent for juniors. The deal needs acceptance by two-thirds of creditors to succeed.
Deutsche Bank's Deutsche Asset Management said on Friday that it "currently doesn't see anything that could justify accepting a roughly 70 percent write-off of a claim with a public guarantee." The company's funds own more than 200 million euros of junior bonds, mostly Heta's 230 million-euro floating-rate note due 2017, which is held in its Deutsche Institutional Money Plus fund, according to data compiled by Bloomberg.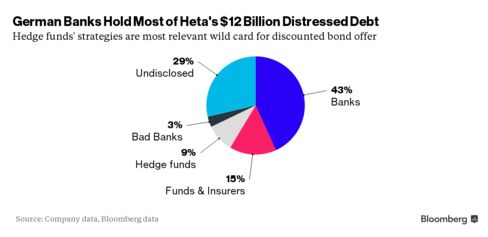 Schelling earlier this week sweetened Carinthia's bid, offering bankers in Frankfurt an option to invest the proceeds into a government bond priced below market rates, effectively raising the offer to around 82 percent. A separate creditor group owning enough to block the deal said the step was welcome and in the right direction but not enough to convince them. The group insisted on full redemption.
"The tender offer and the additional offer is still not acceptable for the creditors," the creditor group said in an e-mailed statement. "The additional offer, which was only made shortly before the expiry of the tender offer period, still falls short of the obligation to repay in full the creditors' claims."
Whetted Appetite
The fact that Schelling offered a sweetener despite previous assurances that the discounted bid was final may have whetted investors' appetite, said Frederick Gentis of Wallich & Matthes, a fixed-income trader specializing in German and Austrian deficiency guarantees.
"Schelling said there would be no improvement and then he offered the sweetener," Gentis said. "Now the creditors see the government's urgency to solve this and know there will be an improved deal offered in the coming days."
Austria's Finance Ministry said such hopes were in vain. "The pricing of the zero bond is determined by market conditions," a spokeswoman said by e-mail. "An improvement wouldn't be in line with the market anymore."
Austria had pinned its hopes for a deal on winning over the German banks holding the bonds because most of them have already written down the debt to 50 percent of face value at the request of the European Central Bank and could book a gain if they accepted. Yet the attempt to drive a wedge between the creditors is proving futile as Commerzbank AG or HSH Nordbank AG remain members of the alliance, according to the group.
Creditor Opposition
Germany's GDV insurance association, which represents 11 insurance companies holding about 820 million euros of Heta debt, said it saw no signs of the creditor opposition weakening.
"We are talking to the other creditor groups and my impression is that they are all holding firmly to their position to reject the offer as it is at the moment," the GDV's chief economist Klaus Wiener said. "Anything else would create a precedent case that no investor would want to let happen."
Heta, a former state bank loaded with bad loans in the Balkans, has turned into a burden for Austrian taxpayers since its emergency nationalization six years ago. Three of Schelling's predecessors failed to come to grips with it before he tried to turn the tables and share some of the losses with Heta's creditors. When he halted further capital injections, he triggered a debt moratorium that has been in place since March 1, 2015.
Frankfurt Court
The moratorium may be void for Heta's bonds issued under German law, a Frankfurt court said on Friday, echoing a similar opinion by a different panel three weeks ago.
Investors who tender their bonds are eligible to buy 18-year zero-coupon notes issued by the Austrian Treasury at 75 percent of face value with the cash they receive in the buyout under Schelling's offer. The bond's return is equivalent to a yield of 1.61 percent, compared with 1.13 percent for the Austrian government bond maturing in 2034.
Deutsche Bank said the offer is more attractive for senior creditors and hence discriminates against junior creditors even more than the original one.
Before it's here, it's on the Bloomberg Terminal.
LEARN MORE