YPF Joins Industry Penny Pinching as Argentine Subsidy Fails
CFO says company will have to cut spending further this year

CEO forecasts a 25 percent reduction in expenditures
YPF SA is the latest oil producer to join the industry's drive to reduce spending, and more cuts are coming as artificially high prices at home have failed to shield the company from a global downturn.
The state-run producer, which announced it invested about 33 percent less in 2015 than it had planned, will have to lower its capital budget further this year, Chief Financial Officer Daniel Gonzalez said in an interview Thursday. The cuts will be of as much as 25 percent, Chief Executive Officer Miguel Galuccio told investors on a conference call Friday. With lower funding needs this year, the company plans to sell less than $1 billion of bonds, Gonzalez said.
"Cuts will be done in exploration and production," Gonzalez said. "Our financial needs this year will be significantly less than in 2015 to the point we will only need to raise less than $1 billion in the international bond market. We're already monitoring the market conditions and will proceed with the sale as soon as a window of opportunity opens."
YPF had its first loss in at least a decade in the fourth quarter as higher domestic crude prices introduced by former President Cristina Fernandez de Kirchner's government weren't enough to protect the company from a market rout. The country's Medanito crude was set at $77 a barrel in September, compared with an average $44.69 for Brent, the international benchmark, during the fourth quarter.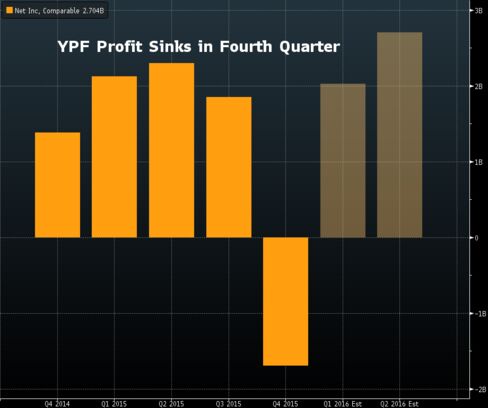 Last year's elections and a weak economy prevented the company, which also refines about 60 percent of the country's crude, from taking unpopular steps to raise gasoline prices in U.S. dollar terms, Gonzalez said.
YPF said it invested 61.2 billion pesos ($4 billion) last year, compared with the $6 billion of investment it had pledged. The fourth-quarter net loss was 1.7 billion pesos, or 4.32 pesos a share, compared with a profit of 1.4 billion pesos, or 3.52 pesos, a year earlier, YPF said Thursday in a statement after markets closed.
The company's oil and gas production increased 3 percent to 576,700 barrels of oil equivalent a day last year.
YPF's American depositary receipts fell 0.3 percent to $18.73 at 1:35 p.m. in New York. The ADRs are up 18 percent this year after rebounding from the lowest in nearly three years in January.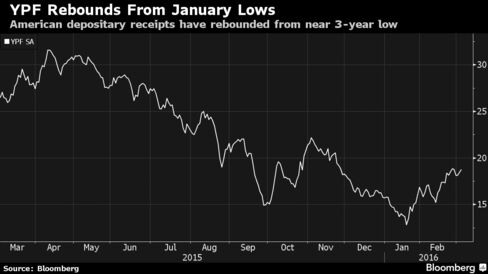 Gonzalez confirmed the company suspended 2,000 workers in Neuquen's province Vaca Muerta shale formation, as reported Thursday by Bloomberg. Drilling rigs in Vaca Muerta shale area were cut to 11 from 17 and the company doesn't expect to have a meaningful increase in hydrocarbons this year, Galuccio said.
Before it's here, it's on the Bloomberg Terminal.
LEARN MORE