Rupee Rally Reflects Budget `Euphoria' as Equity Inflows Surge
Rupee benefits from positive sentiment after budget: Kotak

Tuesday's equities inflow was biggest since September
India's rupee rose for a fifth day in its longest winning streak since December after foreign investors boosted holdings of local stocks.
Global funds bought a net $252.3 million of shares Wednesday after purchasing $443 million on Tuesday, which was the biggest single-day purchase since September 2015. Finance Minister Arun Jaitley announced he was boosting spending on a rural jobs program and proposed a new health insurance plan, while allocating money for higher government wages and military pensions, in his budget speech a day earlier. Jaitley also reaffirmed a goal of narrowing the fiscal deficit to 3.5 percent of gross domestic product in the year starting April 1, the lowest in nine years.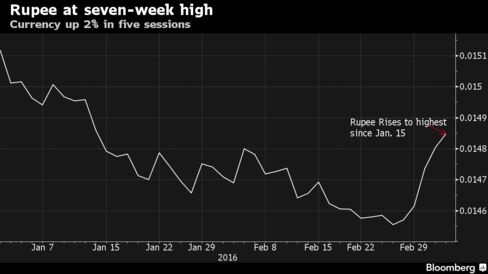 "The rupee is echoing the euphoria in the debt and equity markets post the budget, which aims to stimulate growth while maintaining fiscal prudence," said Anindya Banerjee, associate vice-president for currency derivatives at Kotak Securities Ltd. in Mumbai. A revival of demand for riskier assets is also aiding the rupee, he said.
The rupee gained 0.3 percent to close at 67.34 a dollar in Mumbai, according to prices from local banks compiled by Bloomberg. It rose to 67.28 earlier, the strongest since Jan. 15. The Indian currency has strengthened 2 percent in five days, paring its 2016 loss to 1.8 percent. The benchmark S&P BSE Sensex rose 1.5 percent after posting its steepest two-day gain since May 2014 on Tuesday and Wednesday.
Sovereign bonds fell, pushing the 10-year yield up four basis points to 7.66 percent, according to prices from the RBI's trading system. It dropped 26 basis points in the three days through March 1 on optimism the government will keep the deficit in check.
Before it's here, it's on the Bloomberg Terminal.
LEARN MORE