Federal Reserve Gains More Room for Second Rate Increase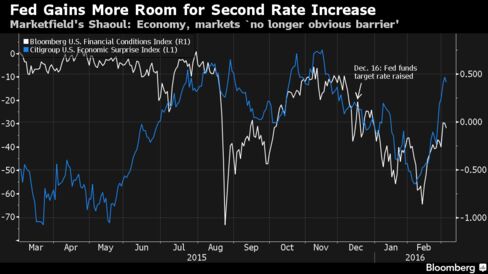 "U.S. financial conditions are no longer an obvious barrier" to another interest-rate increase by the Federal Reserve, according to Michael Shaoul, chief executive officer of Marketfield Asset Management LLC. Shaoul drew his conclusion in a report today that cited rebounds in the chart's two indicators, the Bloomberg U.S. Financial Conditions Index and the Citigroup U.S. Economic Surprise Index. Fed policy makers will meet March 15-16 to decide whether to raise their target rate for the second time since December.
Before it's here, it's on the Bloomberg Terminal.
LEARN MORE