Fed and the Markets: Breaking Up to Making Up on Rate Outlook
FOMC's median forecast of appropriate rate path likely to fall

Investors rethink their rate-rise bets as data improves
A once-yawning chasm between market expectations and U.S. Federal Reserve projections for the pace of interest rate increases this year is about to narrow.
Fed officials meet March 15-16 in Washington and are widely expected to leave rates unchanged. More drama will come with their updated forecasts for rates and key measures of the economy. The appropriate path for rates set out in those forecasts -- often described as the "dot plot" -- will almost certainly drop, just as investors are lifting their expectations amid calming markets and decent economic data.
"The Fed's going to move toward the market, and it's not going to take much for the markets to move back up," Roberto Perli, a former Fed official who's now a partner at Cornerstone Macro LLC, a consultancy in Washington.
Recent dovish comments from senior officials including New York Fed chief William Dudley have reinforced expectations the central bank will postpone action this month.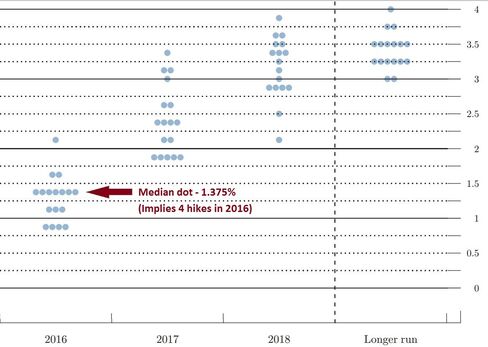 Policy makers last submitted projections in December, when they raised the benchmark federal funds rate for the first time in almost a decade. The median forecast then from the 17 members of the Federal Open Market Committee called for the effective fed funds rate to reach 1.375 percent by the end of 2016, implying an expectation for four quarter-point increases.
Investors never quite bought that view. They predicted two to three hikes, based on prices of fed funds futures contracts in late December.
That gap between the median FOMC rate rise projection and the slower pace of tightening implied by pricing in interest rate futures markets has been commonplace since the dot plot was launched in 2012. Part of the reason is investors' view that the dot forecast belonging to the most senior officials, especially Chair Janet Yellen, who are likely to drive policy decisions, has been consistently more dovish than the median view.
Many economists believed Yellen fell into the camp favoring three hikes this year. The forecasts are anonymously provided by the FOMC members and Yellen has declined to identify her own dot.
'Modal Scenario'
Moreover, Perli said, markets tend to be more cautious than the Fed because they're pricing in uncertainty. "The Fed is just giving you its modal scenario," he said, referring to a forecast's single, most likely outcome.
But if the chair and markets were within shouting distance in December, they were miles apart after oil and global stocks plunged beginning in early January. Market expectations for rate increases bottomed on Feb. 11, when investors saw just an 11 percent chance of even a single hike by December 2016.
That kind of gap can be concerning, said James Sweeney, chief economist at Credit Suisse Securities LLC in New York. It raises the risk that investors could be caught unprepared by a future Fed rate hike and react abruptly, as they did in the so-called taper tantrum of 2013. In that instance, a comment from then-Fed Chairman Ben Bernanke about eventually withdrawing stimulus surprised investors and sent bond yields soaring.
"You want to avoid that kind of disruption," Sweeney said, but added that the Fed shouldn't make policy around its fear of market reaction. "The Fed needs to keep its focus on the fundamentals and risks in the economy."
Price Pressures
Fortunately, markets have calmed and the U.S. economy has kept showing steady improvement. The Fed's favorite gauge for one-year inflation leaped to 1.3 percent in January, from 0.7 percent a month earlier. Fourth-quarter GDP growth was revised upward to 1 percent, from 0.7 percent, and consumer purchases climbed in January by the most in eight months.
As a result investors are now putting odds of a September hike at about 50 percent. A solid jobs report for February, due out Friday, could push sentiment even higher, perhaps making investors think again about a second move by December.
On the Fed's end, the median expectation is likely to drop to three, and possibly further.
The group to watch are the seven FOMC members who in December forecast four 2016 hikes. They probably include centrists like Vice Chairman Stanley Fischer, San Francisco Fed President John Williams and Cleveland's Loretta Mester.
Shift Down
To move the median downward, just two of those seven would have to lower their outlook to three increases. That's likely, if only because it will be at least April, if not June, before the Fed can get the first rate hike of the year in the books.
Moving the median down to two hikes faces a much bigger hurdle. Two of those same seven would have to be so put off by weakness outside the U.S., or perhaps by shaky inflation expectations, that they remove two rate hikes from their previous forecast. In addition, all three members who were previously predicting three moves this year would have to drop to two. Furthermore, in the past, the median dot for the current year of any forecast has never shifted by more than a single quarter-point from the previous quarterly publication.
Either way, Perli said he didn't foresee any severe market reaction to the new FOMC dot plot that will be published on March 16.
"I don't think the market's going to throw a fit unless the Fed sounds much more determined to raise rates than everyone sounded in last few weeks," he said. "I don't think the market's in for a big surprise."
Before it's here, it's on the Bloomberg Terminal.
LEARN MORE