Etsy's Handmade Label Now Includes 'Artisanal' Factories
Chasing growth, the quirky marketplace redefines its mission.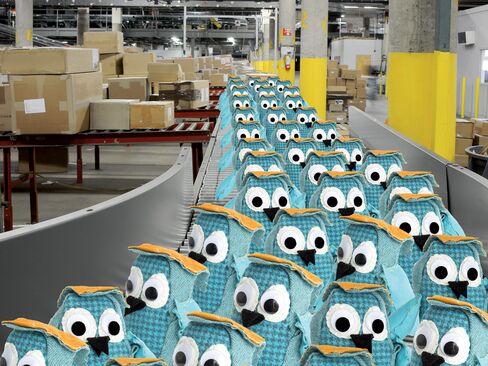 Etsy, the online marketplace for all things handmade, got its start in Brooklyn 11 years ago as a quirky alternative to anonymously and cheaply produced goods. It was personal and artisanal, a crafts fair of the obscure and mundane. Among the millions of items for sale: a taxidermied Siberian weasel, a vintage Underwood typewriter modified to work as a keyboard, and T-shirts that say "I Can't Adult Today." Four years ago, the New York company was certified by the nonprofit B Lab as a B Corp, which means it considers social and environmental pursuits as important as financial ones.
Now Etsy is listed on the Nasdaq stock exchange. It calls itself a tech company and its sellers "creative entrepreneurs." And it has Silicon Valley-size ambitions. Etsy executives are no longer content to oversee a cheery outpost that stands aloof from the e-tailing mainstream. "Our mission is to reimagine commerce in ways that build a more fulfilling and lasting world," says Chad Dickerson, who was promoted from chief technology officer to chief executive in 2011. "We don't want what Etsy is doing to be a marginal niche effort." What Etsy is doing, he says, is humanizing each piece of the supply chain, including manufacturing.
First, Etsy had to reimagine the definition of handmade itself. Now a seller (about 85 percent are women) need only show "authorship" over an item's design and development, take responsibility for how it's put together, and be transparent about how many hands are involved. To this end, Etsy has allowed manufactured goods to be sold on the site for more than two years. In September the company introduced a program to help sellers connect with approved factories.
Fred Wilson, Etsy's lead independent director and co-founder of Union Square Ventures, an early investor in the company, says thinking about Etsy only as a marketplace for handmade goods is too limiting. "Etsy serves a larger community than that," he says. "I don't see handmade as something that's at the core of Etsy's values. More important is that it's person-to-person commerce."
Such talk has led to pushback from some in the Etsy community who worry this shift will damage the site's reputation as a marketplace for unique items. Under Etsy's requirement that sellers simply be responsible for the design of manufactured goods, "wouldn't most products be 'handmade' by someone somewhere?" Katie, the owner of a vintage accessories shop on Etsy, wrote in an Etsy forum in January. "Every mass-produced pillow in the world had to be designed by people who worked with a factory. … How does Etsy's claim of being a handmade marketplace hold any water now?"
Dickerson says Etsy is proceeding carefully to ensure that the relationships between sellers and factories meet the company's standards. He also acknowledges dissent. "We've admitted that defining 'handmade' in a way that makes everyone happy isn't possible," he says. "So we focused on defining it in a way that everyone can understand and that we can enforce." Brean Capital analyst Tom Forte describes the situation as an opportunity and a challenge for the company. "Etsy has to drive scale but avoid the perception that mass-produced products are on its site," he says.
The company is facing a sobering reality: Changing its rules is the only way Etsy sellers—and the company that lives off their fees—can scale up. Newly public companies often have to adapt to assure growth, something the Silicon Valley crowd calls pivoting. EBay, that other marketplace that isn't Amazon.com, realized in 2008 that customers had tired of haggling, so it began emphasizing fixed prices. By 2010, sales of fixed-price items exceeded those of auctioned goods.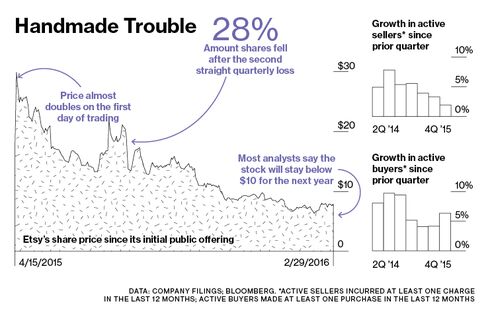 Etsy has had a rocky start as a public company. Before its debut, the business had two years of tremendous growth, reporting annual increases in merchandise sales and revenue of as much as 70 percent. On its first day of trading in April 2015, the stock's value almost doubled, to $30. But last year, merchandise sales growth slowed to 23.6 percent. And the number of active sellers increased just 15.5 percent; their ranks now stand at almost 1.6 million. International expansion has stalled because of unfavorable exchange rates and an insufficient number of local sellers in some markets. Meanwhile, Etsy spent 68 percent more on marketing in 2015 without much return yet, and it's investing in seller services and improving its mobile ordering experience. It also has new competition from Handmade at Amazon, which opened in October with more than 80,000 products from 5,000 sellers.
Etsy collects 20¢ per item offered on the site and 3.5 percent of the selling price. The most promising source of revenue, though, is the services the company offers its merchants, including direct checkout, shipping labels, and prominent placement of listings on the site. In 2015 these services brought in half of Etsy's $274 million revenue. Still, the company hasn't been profitable for the past four years, which is one reason the once-highflying stock traded at less than $9 a share in early March.
CEO Dickerson has helped Etsy grow up. He hired its first chief financial officer and made deals to sell Etsy products at retailers such as Whole Foods Market and children's furniture seller Land of Nod; Macy's is also hosting an Etsy shop for a year at its flagship store in New York.
The notion of handmade goods was a founding principle of Etsy. But that eventually created a paradox: Etsy's most successful sellers couldn't expand by using outside production help without potentially violating company rules. Those guidelines totaled 14,000 words by 2011. "Imagine that you want your business to grow, but you also fear that if it gets to a certain place and you need outside help, you might get kicked off the platform," says Heather Jassy, senior vice president for members and community. "People had a tremendous amount of anxiety."
Now Etsy merchants can find manufacturers on their own, as some 5,000 have done, or they can join Etsy Manufacturing, a program that enables sellers to develop relationships with select factories in the U.S. and Canada. Etsy says it may collect fees on these orders. So far, 700 manufacturers have applied; one-quarter are Etsy sellers who have their own equipment, employees, or time on their hands. Etsy requires factories to provide information about their production processes, subcontracting, labor practices, and willingness to collaborate with the company's sellers. But Etsy doesn't plan to audit and verify these manufacturers. "Sellers need to do their own homework about who they're working with," says Stephanie Schacht, the director for responsible seller growth.
Another sign that Etsy is behaving more like a conventional company: It reorganized a subsidiary in Ireland—a favorite locale for U.S. companies to base foreign operations because of its low corporate tax rate—to manage most of its international business. Americans for Tax Fairness called the arrangement a tax dodge and asked that Etsy's B Corp status be revoked, but the company's status was recertified in February. Says lead director Wilson: "In my mind, the tax structure is not hypocritical; it's good business."
The bottom line: Etsy grew fast before going public in 2015. To achieve scale, it's letting sellers make goods in factories if they follow Etsy's rules.
Before it's here, it's on the Bloomberg Terminal.
LEARN MORE