Broadcom's Sales Forecast Points to Strong Networking Demand
Company sees smartphone chip market is in seasonal trough

CEO: Priority is paying down debt instead of more acquisitions
Broadcom Ltd., which led a wave of consolidation last year to become one of the world's top-10 chipmakers, predicted fiscal second-quarter sales in line with estimates, as demand for phone-networking components helped to make up for slowing orders for smartphone parts.
Revenue in the current period ending in April will be $3.53 billion, plus or minus $75 million, the Singapore-based company said in a statement Thursday. That compares with an average analyst estimate of $3.56 billion.
Chief Executive Officer Hock Tan has spent the past few years assembling a chipmaker worth more than $50 billion by buying up smaller companies and castoffs from some of the biggest names in the industry. His task now is to integrate his biggest and latest acquisition, Broadcom, whose name became the masthead for the combined company instead of Tan's Avago Technologies. The deal was biggest-ever chip merger.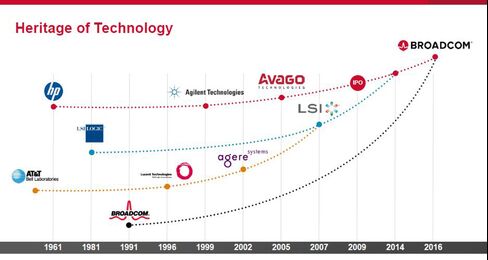 "We're seeing pretty broad-based strength," Tan said. There's increasing demand for high-speed Internet connections and for chips used in wireless networks, he said on a conference call. He said demand for phone parts is entering a "seasonal trough."
Still, Broadcom said it's cutting about 1,900 positions globally across its business, resulting in charges of $650 million through fiscal 2018. Gross margin, the percentage of sales remaining after deducting costs, will be 30.75 percent in the second quarter, plus or minus a percentage point.
New Enterprise
The combined company, which gets the majority of its revenue from the old Broadcom, provides chips to manufacturers of phone networks, computer-storage systems, consumer Internet gateways and smartphones. That last category, which accounts for about 14 percent of sales, according to Nomura Securities, makes Broadcom's earnings a reflection of demand for Apple Inc.'s iPhone and Samsung Electronics Co.'s Galaxy line.
Apple and its contract manufacturer Foxconn each provided more than 10 percent of Broadcom's revenue, the company said.
First-quarter net income in the period ended Jan. 31 was $377 million, compared with $351 million a year earlier. Sales rose 8.3 percent to $1.77 billion. Profit minus certain items was $2.41 a share. Analysts had predicted a profit on that basis of $2.29 on revenue of $1.76 billion.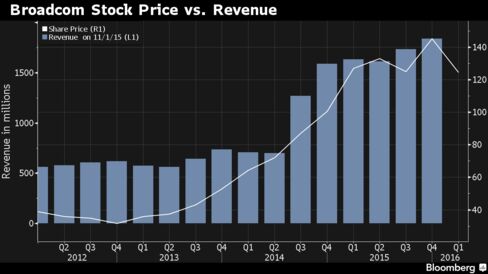 Shares of Broadcom rose 7 percent in extended trading. The stock advanced less than 1 percent to $137.33 at the close in New York, leaving it down 5.4 percent this year.
Broadcom was bought for $37 billion last year by Avago, itself a spinoff of Agilent Technologies, which in turn was formerly part of Hewlett-Packard. The combined group also includes LSI, which had previously absorbed former Agere Systems, which once part of former AT&T unit Lucent.
Tan said his first priority with his newly reshaped company is paying down debt, then returning cash to shareholders.
"Right now we're not doing too much M&A and it couldn't be further from our minds at this point," he said on the conference call.
The company has $22.9 billion of total debt, according to data compiled by Bloomberg.
Before it's here, it's on the Bloomberg Terminal.
LEARN MORE