Wall Street's No. 1 Technical Analyst Says 'Fade This Breakout'
Stock rally lacks volume and breadth support, deGraaf says

Rebound in financial shares, credit market has been lackluster
One of the most widely-followed Wall Street analysts isn't convinced that the recent rally in U.S. stocks means the worst is over.
While the Standard & Poor's 500 Index's 2.4 percent surge Tuesday pushed it through its average price over the past 50 days and above the 1,950 level, the three-week rally that's restored more than $1.5 trillion to U.S. shares hasn't come with sufficient trading volume or lifted enough individual stocks to signal an end to the recent downturn, said Jeff deGraaf, chairman at New York-based Renaissance Macro Research LLC.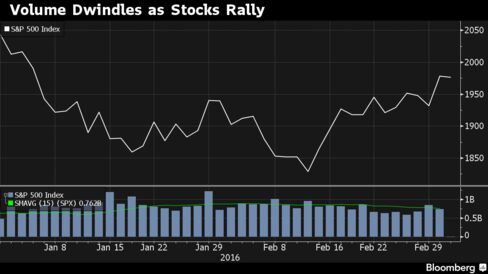 "This entire 150-point rally has been one of the weaker rallies in my 25-year career," deGraaf, the top-ranked technical analyst in Institutional Investor's annual survey for the last 11 years, wrote in a note Wednesday. The market's long-term trend has stayed bearish and with more stocks showing signs of rising too far too fast investors should "fade this breakout," he said. "We appreciate price momentum, but it has to be contextualized."
As the bull market in American equities approaches its seventh anniversary, pullbacks that previously generated buying opportunities have failed to spark lasting rallies since August, when China's surprise devaluation of its currency and crude's slump to levels last seen in 2009 roiled financial markets.
The S&P 500 has jumped about 8 percent from a 22-month low on Feb. 11 in a recovery that trimmed its 2016 decline to less than 4 percent. While the bounce over three weeks is one of the fastest since 2009, it came amid the weakest trading volume of the year. The index was little changed at 1,977.80 at 1:16 p.m. in New York.
Tuesday's rally exhibited lackluster volume again. While the number of rising stocks outpaced those falling by 4.7 to 1, the ratio of their trading was "astoundingly lighter", at 3.6 to 1, according to deGraaf. Breadth weakened too, as the proportion of stocks hitting 20-day highs stood at 35 percent, "a far cry" from the 55 percent that suggests a lasting bull market, he wrote.
At the same time, there were signs that stocks may have run ahead of themselves, he said, as the percentage of stocks signaling "overbought" versus "oversold" hit 52.4 percent, a level that suggests the market is poised to fall.
DeGraaf also cited the lack of consistent strength among stocks and assets as reason for caution. While financial shares and the credit market led the initial rebound, their performance has since been short of what Renaissance Macro expected. Over the same period, energy shares have trailed the market and credit conditions remain "uncomfortable," deGraaf wrote.
Before it's here, it's on the Bloomberg Terminal.
LEARN MORE