Shorts Target Spanish Bourse as Politics Weigh on Trading: Chart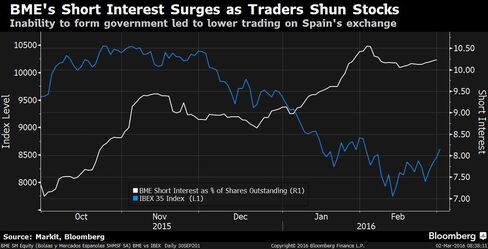 Bolsas y Mercados Espanoles SA's short interest surged to a record and is three times higher than the average for companies in Spain's IBEX 35 Index, data compiled by Markit and Bloomberg show. The exchange operator has been suffering from a plunge in trading as the nation's political turmoil has kept some investors on the sidelines, said Carlos Ortega, a trader at Beka Finance Sociedad de Valores SA. Speaking at the start of a two-day debate before a confidence vote, Socialist leader Pedro Sanchez asked lawmakers to join an alliance to oust Mariano Rajoy's People's Party.
Before it's here, it's on the Bloomberg Terminal.
LEARN MORE