Power Price Volatility Will Drive Energy Security, Germany Says
Free markets boost investment, energy minister Baake says

Making traders accountable is key to energy strategy
Germany is counting on unrestricted price swings in wholesale electricity markets to drive longer-term buying by traders and spur investment in energy security, according to the country's Economy and Energy Ministry.
Extreme price peaks will prompt traders to favor longer-dated contracts to avoid the risk of being whipsawed by volatile short-term prices, Rainer Baake, deputy energy and economy minister, said in an interview. That demand will lead to investment in reliable generation, electricity storage and ways to improve consumer consumption, he said in Berlin.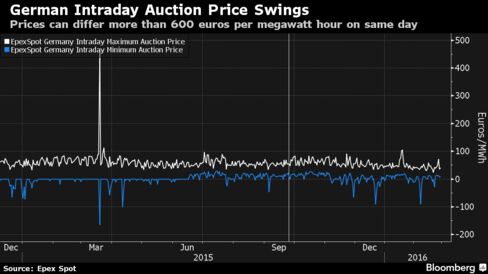 While Germany favors high market prices to remunerate plants for switching on at times of high demand, utility lobby BDEW has said it's unconvinced that intermittent price peaks will ensure investment in reliable generation capacity. Germany's shift to renewable energy has boosted price volatility, with variable renewable output making traders increasingly focus on hourly or 15-minute contracts to react to changes in weather.
"Making energy traders more accountable will guarantee energy security in the long run, that is a key part of our philosophy," Baake said in Berlin. Allowing price peaks to occur is an "important" part of this as "energy traders will hedge this risk by buying long-term," he said.
German power prices for specific 15-minute periods in March last year swung from minus 164.48 euros per megawatt-hour to as much as 464.37 euros in an auction before a solar eclipse, an event seen as an indicator of trading conditions when renewable energy accounts for a bigger share of overall power generation. Negative prices occur when production exceeds demand, forcing utilities to pay users to take the power.
German intraday prices may surpass the 1,000-euro-per-megawatt-hour mark by 2019 as more power plants close amid low wholesale prices and emission regulations, Swedish utility Vattenfall AB has said.
Epex Spot SE, the Paris-based exchange where German power futures for delivery of 15 minutes up to one day are traded, currently limits prices to as much as minus or plus 9,999 euros ($10,872) per megawatt hour.
Before it's here, it's on the Bloomberg Terminal.
LEARN MORE