Oil-Equity Investors' 40% Loss Could Have Been Much Worse: Chart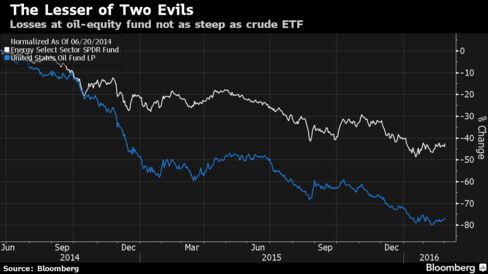 There's some solace for investors in an oil fund who've absorbed a 40 percent loss over the past 18 months -- at least they opted for exposure to equities instead of crude futures. The decline in State Street's Energy Select Sector SPDR Fund is eclipsed by the 80 percent wipeout endured by the United States Oil Fund LP, an exchange-traded fund that invests in oil futures. The blow for producers has been cushioned somewhat by their ability to keep accessing capital markets, whereas the pain in futures is compounded by a market structure called contango, which means investors pay a financial penalty to maintain their position each month as futures contracts expire.
Before it's here, it's on the Bloomberg Terminal.
LEARN MORE