Germany's 5-Year Borrowing Costs Drop Further Below Zero: Chart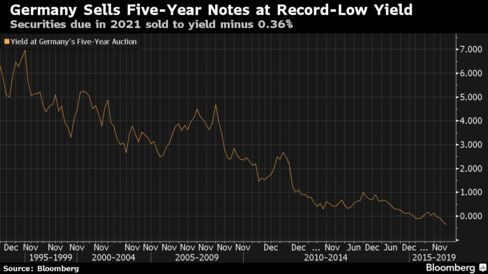 Germany's borrowing costs reached new lows on Wednesday as the nation sold five-year notes to yield minus 0.36 percent. That means investors who purchased the securities and hold them to maturity will pay for the privilege of lending to Chancellor Angela Merkel's government. The securities join almost $8 trillion of bonds worldwide with sub-zero yields. Japan got paid to borrow for 10 years on Tuesday while, in Switzerland, yields on benchmark bonds with maturities out to 20 years have dropped below zero in the secondary market.
Before it's here, it's on the Bloomberg Terminal.
LEARN MORE