Even a Modest Oil Recovery Is Doubted by Options Traders: Chart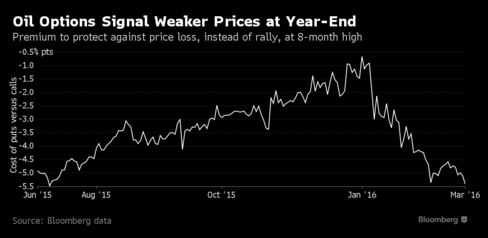 Oil reached an eight-week high of $37 a barrel in London, analysts predict a recovery to $47 in the fourth quarter and hedge funds are making record bullish bets, but options traders aren't convinced. They are paying the most since July to protect against lower prices by the end of the year, compared with the cost of hedging the risk of more expensive crude. As U.S. production shows continued resilience to low prices, Iran returns to global markets and Saudi Arabia keeps pumping, options markets show the threat of "lower for longer" prices hasn't disappeared.
Before it's here, it's on the Bloomberg Terminal.
LEARN MORE