Dollar Reaches One-Month High as Jobs Gain Renews Fed Rate Watch
Shift to positive tone for economic indicators alters outlook

Credit Agricole sees further greenback gains versus euro, yen
The dollar strengthened to a one-month high against the euro after a private report showed the U.S. jobs market remains strong, adding to the case for the Federal Reserve to raise interest rates this year.
The greenback rose for the fourth day after data from the ADP Research Institute showed U.S. companies added more workers to their payrolls in February than projected. The figures precede Friday's employment report, a key gauge of the economy that may sway Fed policy makers when they decide on the path of monetary policy March 15-16.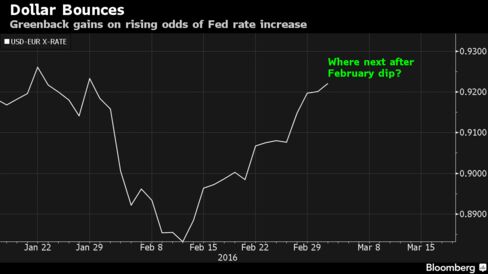 "The U.S. dollar has been responding to the improving tone of U.S. data, which has brought forward market expectations for the timing of the next Fed hike," said Ian Gordon, a foreign-exchange strategist at Bank of America Corp. in New York. "The ADP report suggested the risks to Friday's nonfarm payrolls report are on the upside."
The Bloomberg Dollar Spot Index, which tracks the currency against 10 major peers, dropped 1.8 percent in February on concern that a global economic slowdown will drag down the world's biggest economy. The currency's stumble last month, which was its worst since April 2015, follows a three-year rally on speculation that the Fed would boost borrowing costs while its biggest peers carried out unprecedented stimulus.
The U.S. currency rose 0.2 percent to $1.0847 against the euro as of 12:14 p.m. New York time, reaching the strongest level on a closing basis since since Jan. 29. It was little changed at 113.86 yen.
Fed Watch
In the futures market, traders see about a 55 percent chance that the Fed will lift rates by September, assuming the next boost is by a quarter-point. The probability sank below 2 percent last month. The calculation is based on the assumption that the effective fed funds rate will trade at the middle of the new target range after the next increase.
The 214,000 increase in employment followed a revised 193,000 rise in the prior month, the ADP figures showed. The median forecast of economists surveyed by Bloomberg called for an advance of 190,000. U.S. payrolls will probably climb by 195,000 in Friday's employment report, according to the median forecast of analysts surveyed by Bloomberg. That would reflect a gain from 151,000 the previous month.
"The U.S. dollar should regain more ground because better U.S. data and easing global financial conditions should help the Federal Reserve keep its constructive economic outlook, and signal further gradual tightening," Valentin Marinov, head of Group-of-10 currency strategy at Credit Agricole SA's corporate and investment-banking unit in London, said in a note.
Before it's here, it's on the Bloomberg Terminal.
LEARN MORE