It was just after 5 p.m. on an absurdly warm, sunny day in February, and Semilla's tiny dining room was already packed. The diners who looked a bit smug had made reservations in advance, while others lined up on Havermeyer Street pulling on e-cigarettes, waiting for seats to open up at the counter.
They were here for pizza. Not just any pizza, but $5-a-slice pan pizza as imagined by Pam Yung and José Ramirez-Ruiz, two brilliant cooks who are best known for the smart, delicious, and mostly vegetarian tasting menus they serve at Semilla (when I reviewed the restaurant in 2014, I gave it three stars). Yung's crusty sourdough loaves are a highlight of dinner, but the pizzas started out as a no-nonsense way to feed the staff. Since then, the pizzas have evolved.
Usually, it's the toppings that are responsible for providing most of the moisture and flavor, but Yung's dough has both qualities in spades—the base is an airy network of bubbles with a crisp bottom and a soft, beautifully tangy chew. And Ramirez-Ruiz builds up the toppings in generous, but careful proportion: The simplest pizza got a smear of intense tomato sauce and smoked mozzarella, with red onion so finely sliced that it wrinkled and cooked through within minutes in the single-deck oven. (This small oven and lack of a large mixer—Yung used a 10-quart mixer to produce 40 kilos of dough—are among the reasons the chefs don't know exactly when the next pizza night will be.)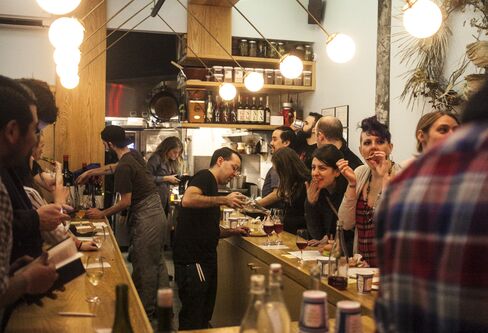 The white pizza wasn't fussy, either, just guanciale with crème fraîche and a little raw arugula thrown on at the end. There was one fancy option, with a rain of black truffles over ham and cheese, and though it cost $14 a slice and came on a grease-stained paper plate, it seemed totally reasonable after you took a bite.
"How's the Golden Nugget pizza?" a diner asked.
"It's f---ing awesome. You should get it." The host replied. And it was, especially later in the evening when the crusts got a little darker and crisper, and the contrast between the tender center and the crisp edge of the dough was turned up. The mound of well-seasoned potato, onion, and egg was inspired by a Spanish tortilla, though it reminded me of a mashed-potato pizza I obsessed over in Rome last summer at Gabriele Bonci's bakery. Bonci, an Italian baker who uses stone-ground heirloom wheats and lets his doughs rise very slowly, for about three days, makes some of the best pizza in the world. Yung staged at his famous pizza place, Pizzarium, for about two weeks before opening Semilla. He changed her idea of what pizza could be, but to make her own exquisite dough, she went her own way and used a mix of 00, high-extraction, and organic bread flours from three different vendors in upstate New York and fed her wild starter for about a month.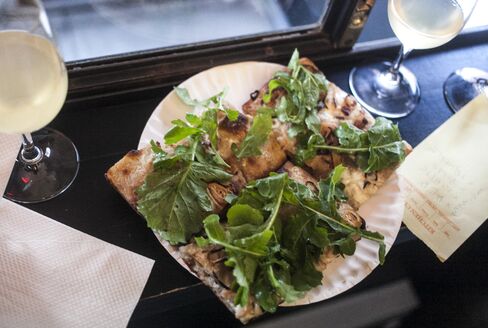 Drinks poured with the pizza came from the Italian-run, Spanish winery Partida Creus, and diners opened tabs, just like they would at a bar, by handing over a credit card. This worked well, though servers sometimes had to yell the order numbers many times, until their voices went hoarse, before someone came over to claim it. By 7:30 it was almost impossible to hear your number called or to move through the room to get to it, but diners helpfully passed the plates and glasses of cool, cloudy Spanish wines back, and those near the coat hooks handed out coats. The room smelled of Saturday night in a liberal arts college, of clean, sweaty bodies and warm bread, punctuated with deep green notes of skunk. Then those skunky notes grew more powerful.
"OK, that's it—Who's smoking pot in here?" a waiter shouted. When he got no answer, he shrugged, eased open another cold magnum, and got back to work.
Semilla is at 160 Havemeyer Street, Brooklyn (Williamsburg); +1 718 782-3474 or semillabk.com
Tejal Rao is the New York food critic for Bloomberg. Follow her on Twitter @tejalrao and Instagram @tejalra or contact her at trao9@bloomberg.net
Before it's here, it's on the Bloomberg Terminal.
LEARN MORE