EU Readies Emergency Refugee Funds as Merkel Urges End to Splits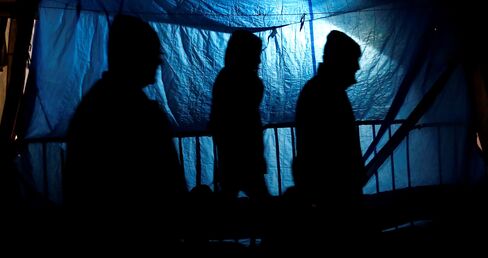 German leader on campaign trail condemns unilateral actions

Sees Greece in `very difficult' position requiring solidarity
The European Union readied emergency funding for refugees as German Chancellor Angela Merkel said the scale of the challenge requires "all of Europe's strength" and solidarity with struggling countries such as Greece.
EU Commissioner Christos Stylianides, who handles humanitarian aid and crisis management, is due to announce the measures on Brussels on Wednesday. "This is a necessary step the commission is taking to prevent humanitarian suffering as a result of unprecedented numbers of people arriving in the EU," commission spokesman Margaritis Schinas told reporters in Brussels.
Greece is the focus of the crisis after a cascade of border closures reached its northern frontier, triggering scenes of refugees storming border fences and being tear-gassed by Macedonian police. Greece's government has warned of an impending humanitarian catastrophe unless the borders are opened and migrants allowed to move north.
"These days we are taking unilateral actions and leaving behind member states that are having a very difficult time -- for example Greece at the moment," Merkel told a campaign rally in the city of Freiburg on Tuesday evening. "That's why I'm working for us to tackle this problem among the 28 members, so that some states don't have to take on a heavy burden while others brush the problem away."
Merkel is increasingly isolated in urging help for Greece and championing an open Europe before EU leaders meet for an extraordinary summit on migration in Brussels on March 7. She also faces an electoral test of her refugee policy in three German states that go to the polls on March 13.
'Waving Through'
EU Commission President Jean-Claude Juncker called Greek Prime Minister Alexis Tsipras on Monday and "assured the prime minister of the commission's unwavering support to Greece, of his personal support and the commission's support in helping Greece handle the unprecedented situation as regards the refugee crisis," Schinas said.
As her stance faces resistance in her governing coalition and among the German public, Merkel earlier Tuesday called for a return to orderly European borders and ending the policy of other EU countries of "waving through" refugees, most of whom end up in Germany.
"There is no right for a refugee to say 'I want to get asylum in a particular country of the European Union,'" Merkel said after talks with Croatian Prime Minister Tihomir Oreskovic, who said his country may send soldiers to defend its borders. Croatia is on the so-called western Balkans route that refugees take on the way from Turkey through Greece to northern Europe.
Merkel lowered expectations for next week's EU summit, which includes a meeting with Turkish Prime Minister Ahmet Davutoglu. Turkey, which borders Syria, has been at the forefront of the refugee crisis and EU leaders are asking its government to help restrict the influx to Europe.
"I can't promise that all problems will be resolved, you know that," Merkel said in Freiburg. "We'll work to make progress and continue along this path step by step. I ask for your support in this."
Before it's here, it's on the Bloomberg Terminal.
LEARN MORE