Japan Inc. Profits Drop for First Time Since 2011 in Blow to Abe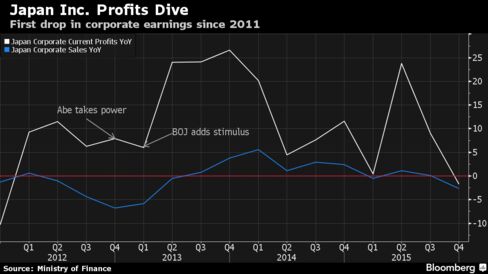 The stronger yen combined with slowing sales to cut Japanese company profits last quarter for the first time since 2011. The currency has risen almost 7 percent against the dollar since the end of September last year, cutting the value of profits earned overseas by companies like Nintendo when the money is repatriated. Japanese Prime Minister Shinzo Abe has pointed to record corporate profits since he returned to power in December 2012 as one of the achievements of his "Abenomics" policy.
Before it's here, it's on the Bloomberg Terminal.
LEARN MORE