Bank Payouts at Risk in Sweden Following Latest Regulatory Blow
Once the darlings of European finance, Sweden's banks have had a harder time of late.
New Swedish bank rules unveiled on Tuesday risk leaving less money for shareholder rewards. Svenska Handelsbanken AB, which is hardest hit by the change, says it still needs to work out how badly its capital ratio will be affected. But it can already see that its risk-weighted assets will swell by more than $10 billion, according to Mikael Hallaaker, the bank's head of investor relations.
That puts dividend-per-share forecasts for Handelsbanken "at risk," according to analysts at DNB Markets.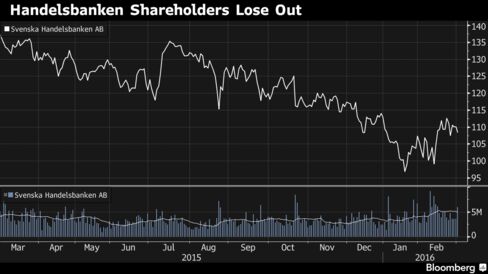 The latest regulatory blow targets the risk weights that banks assign to their corporate assets. The Financial Supervisory Authority in Stockholm is ordering the industry to adjust its models, leading to weights of more than 30 percent, on average. Handelsbanken currently uses 21 percent. (A higher risk weight creates a bigger capital requirement.) DNB estimates Handelsbanken won't be FSA compliant under the new rule in 2017, all things being equal.
Shares in Handelsbanken traded 1.5 percent lower as of 1:24 p.m. in Stockholm on Wednesday, compared with a 1.8 percent gain the Bloomberg index of Europe's 39 most-traded financial stocks.
Shareholders in Sweden's second-biggest bank, which not so long ago was one of Europe's best capitalized, lost as much as 5.1 percent at one point on Tuesday. It's a significant departure from what investors have been accustomed to. As recently as last month, Handelsbanken promised a record shareholder payment.
According to Kristin Dahlberg, an equity analyst at Jefferies International in London, new rules are putting "pressure on distributable capital" for Swedish banks. She says some lenders were already cautious in their choice of words in fourth-quarter reports as management braces for change.
Investors in Swedish banks now face smaller rewards. Nordea Bank AB, Scandinavia's biggest lender, is already backtracking on a target of returning at least 75 percent of profit to shareholders.
And there's more tightening to come. The FSA warned Swedish banks to gird for stricter rules as a result of measures put forward by the Basel Committee on Banking Supervision and European authorities.
Those initiatives will lead to "extensive changes" that will also affect the way in which risk weights are calculated. "This could have significant consequences for Swedish banks in particular since the risks, and the reported risk weights, are relatively low in Sweden," according to the regulator.
Before it's here, it's on the Bloomberg Terminal.
LEARN MORE