Analysts Back Away (Slowly) From a Plunging Valeant: Chart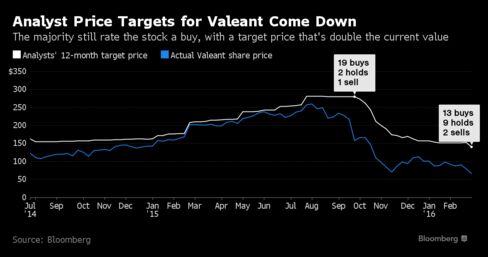 Sell-side analysts have been some of drugmaker Valeant's biggest defenders. That's starting to change, gradually. Douglas Miehm, an analyst at RBC Capital Markets, cut his rating on the stock Tuesday to sector perform, with an $85 12-month price target. And David Steinberg, an analyst with Jefferies, kept a buy rating but now has a $106 price target, down from $172. "Almost unbelievably, there are yet even more questions than answers," Steinberg said in a note to clients Tuesday. The company said Monday it had received a subpoena from the U.S. Securities and Exchange Commission and is facing questions about its strategy and business practices. That doesn't mean everybody's a pessimist, despite the shares having fallen by 75 percent since their August peak, to less than $70.
Before it's here, it's on the Bloomberg Terminal.
LEARN MORE