Why We Might Be Talking About 'Divergence' Again Soon
Remember this word?
If you think back to the end of last year, you couldn't have any conversation about the global economy without hearing the word "divergence."
Here's a chart showing the weekly count of the word in news stories toward the end of 2015. You can see how use of the term exploded in November and December, before settling down again this year.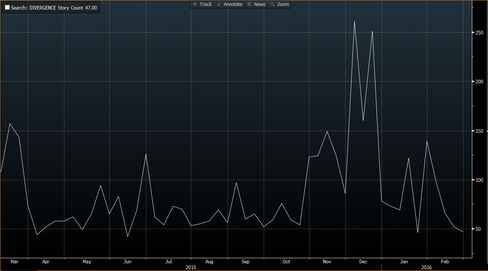 The reason for the word's popularity had to do with the status of the Federal Reserve and the European Central Bank. Thanks to the solid U.S. economy, the Fed was seen as starting (finally) to tighten its monetary policy, while the ECB seemed set on a new round of easing.
But that hasn't been the theme of 2016 so far. Instead, everyone's been talking about market volatility and global economic weakness, prompting a big decline in expectations for a Fed hiking cycle.
Still, things have been a lot calmer over the past couple of weeks, as risky assets have rallied. Here's a chart showing the market-implied Fed policy curve today compared with Feb. 11. Earlier, the markets essentially foresaw no further interest rate hikes all year; now they are implying a somewhat higher path for rates.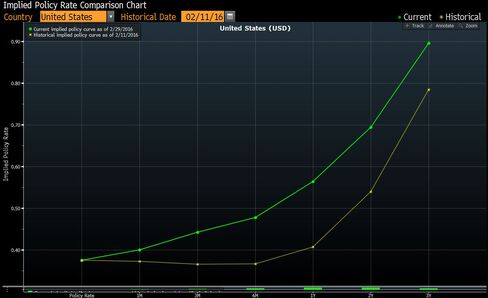 Furthermore, the economic trajectories of the U.S. and the euro area do appear to be diverging.
Here's a look at the Citi Surprise Indices for the U.S. and the euro area.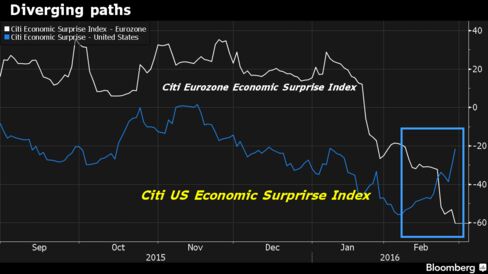 As you can see, U.S. data have generally been beating expectations to the upside lately, while euro data have been sliding. That's been particularly true in recent inflation reports, which have relevance to both central banks.
All of which means it might just be time for the D-word to creep back into the lexicon.
Before it's here, it's on the Bloomberg Terminal.
LEARN MORE