Valeant Says It's Under Investigation by SEC, Shares Plunge
Stock adds to earlier declines, falls by 18 percent Monday

SEC probe said to be separate from Salix investigation
Valeant Pharmaceuticals International Inc. said it is under investigation by the U.S. Securities and Exchange Commission in a previously undisclosed probe.
The drugmaker said in a statement that it received a subpoena from the SEC in the fourth quarter and would have disclosed it in due course in its 10-K filing, which has been delayed. It didn't provide further details on the probe.
The SEC probe is separate from an existing investigation into a company purchased by Valeant last year, Salix Pharmaceuticals Ltd., which was previously disclosed, according to a person familiar with the matter. The person declined to comment on the record because the matter isn't yet public.
"In response to media inquiries, Valeant confirmed that it has several ongoing investigations, including investigations by the U.S. Attorney's Offices for Massachusetts and the Southern District of New York, the SEC, and Congress," Valeant said in the statement posted online.
The stock fell 18 percent to $65.80 at the close in New York. Valeant has lost almost three-quarters of its value since August as scrutiny on its drug price increases, distribution system and accounting intensified.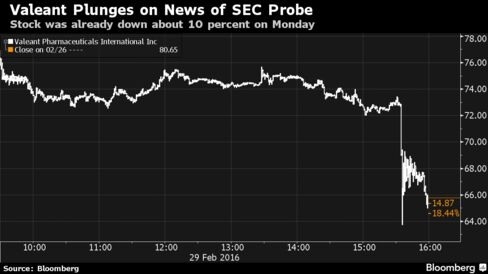 Judy Burns, an SEC spokeswoman, declined to comment on the new probe. Research firm Probes Reporter warned of a possible SEC investigation in a Feb. 23 report and said on Feb. 28 that it had new data confirming a probe.
The drugmaker's stock was already down about 10 percent on Monday, after Valeant said it would withdraw its financial forecast and will delay releasing fourth-quarter results. It also announced Sunday night that Chief Executive Officer Michael Pearson was returning after a two-month medical leave following an hospitalization for severe pneumonia, to help the company as it grapples with questions about its business practices and strategy.
New Chairman
Pearson will give up his chairman title. Robert Ingram, a board member, will fill that role, Valeant said in a statement Sunday.
The drugmaker had been scheduled to give an overview of its fourth-quarter results on Monday, though was delaying making a formal regulatory filing. It will wait to file its annual report until an internal investigation by the board -- which is partly focused on Valeant's relationship with controversial mail-order pharmacy Philidor Rx Services LLC -- is completed. The board committee is also looking at Valeant's accounting.
'Clearly Negative'
"The withdrawal of prior 2016 financial guidance is clearly negative," said BMO Capital Markets analyst Alex Arfaei, whose own estimates were below the company's forecasts. Still, the return of Pearson as CEO is positive, because "few other executives would be as qualified, and incentivized, in turning Valeant around," Arfaei, who rates the stock market perform, wrote in a note to investors.
Pearson built Valeant into a Wall Street darling through serial acquisitions and a lean research and development model before the drugmaker became a poster company for aggressive price hikes. The CEO, who was hospitalized in late December with severe pneumonia, went on sick leave as he was attempting to regain investors' trust after the company came under fire for the price increases and its relationship with Philidor. "Some unexpected complications resulted in a longer hospital stay than anticipated," Pearson, 56, wrote in a memo to employees on Jan. 25.
The news of his return is "encouraging because Pearson is a visionary who created significant value for shareholders over several years," Morgan Stanley analyst David Risinger, who rates the shares neutral, wrote in a note to investors. "It also suggests that Pearson will not be implicated in any wrongdoing associated with the Philidor controversy."
Multiple Challenges
Pearson is returning to a company facing multiple challenges. Among them is the impact of its now-severed relationship with Philidor; decisions by drug benefit managers Express Scripts Holdings Co. and CVS Health Corp. to curtail coverage of expensive medicines like toenail fungus drug Jublia; a ballooning debt and the potential impact in the long term of the introduction of a generic version of its gastrointestinal drug Xifaxan.
Arfaei, the BMO analyst, said he's not too concerned because Valeant is confident that much of its patents for the drug expire between 2019 and 2029. "Nonetheless, Xifaxan is a key growth driver for Valeant, and this adds yet another uncertainty, albeit small, for shareholders at a time of heightened sensitivity," he wrote.
Interim CEO Howard Schiller, a board member and the company's former chief financial officer, will step down but remain on the board. Valeant had said in December that it expected sales of $2.7 billion to $2.8 billion in the fourth quarter, and adjusted earnings of $2.55 to $2.65 a share. For 2016, it forecast sales of $12.5 billion to $12.7 billion and adjusted earnings of $13.25 to $13.75 a share.
Planning for Future
Ingram said Sunday that the illness had made it clear it was important to plan for a successor to the CEO.
"Succession planning and building out our senior team to provide additional resources and support for Mike are high priorities for the board," he said in the statement.
Pearson took over Valeant in 2008, bringing with him a business model honed over 23 years as a consultant at McKinsey & Co. that centered on an unconventional approach eschewing research and development in favor of acquisitions. He also had great ambitions: In January 2014, he said he wanted Valeant to be a top 5 pharmaceutical company by 2016.
He made more than 50 acquisitions totaling $34 billion -- including Bausch & Lomb Inc., Medicis Pharmaceutical Corp. and Salix -- and accumulated more than $30 billion in debt. Pearson bought older treatments already on the market, at times substantially raising their prices. Paying down debt remains a priority for the company, Pearson said Sunday.
Before it's here, it's on the Bloomberg Terminal.
LEARN MORE