Australian Leader Takes Aim at Fringe Party 'Swill'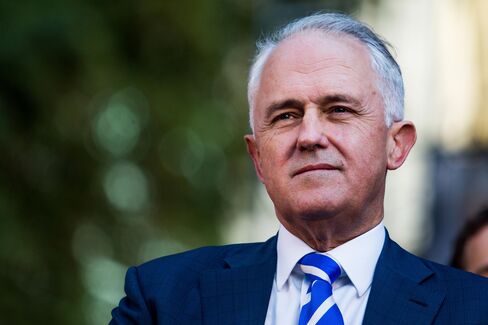 Government seeks to overhaul voting rules for Australia Senate

Speculation mounting Turnbull may call early election in July
Australia's Senate includes a former soldier who's warned of an imminent Chinese invasion, a retired professional footballer who's threatened to physically tackle the prime minister, and a car enthusiast once filmed throwing kangaroo feces at his friends.
Now Prime Minister Malcolm Turnbull wants them out.
They're among eight independent and so-called micro-party lawmakers who collectively hold the balance of power in the upper house and are helping block A$13 billion ($9.3 billion) in budget savings.
Turnbull's Liberal-National coalition government is seeking to overhaul Senate voting laws to greatly reduce the chances of such candidates winning seats in the future. The new legislation, to be voted on later this month, is a sign he may be preparing to call an election as soon as July that could strengthen the government's grip on power.
"Turnbull is looking to knock out the influence of the fringe parties and seize back some control of the upper house," said political analyst Zareh Ghazarian, author of "Making of a Party System: Minor Parties in the Australian Senate." "This legislation is being wheeled out at a potentially strategically important time, just when the government appears to be struggling in the political debate."
Lead Evaporates
Turnbull has seen the government's opinion-poll lead evaporate amid criticism he's failed to deliver a clear policy agenda for Australia, despite pledging to provide an economic narrative when he seized the leadership from Tony Abbott in September. The main opposition Labor party drew level with the coalition in a Newspoll published Feb. 22, erasing the six-point lead Turnbull held just three weeks earlier.
He may now be going for broke and preparing to call a so-called double dissolution election that would see all 150 seats in the House of Representatives and 76 Senate seats up for grabs. In a normal election, only half the Senators from the six states are replaced -- leaving the government still having to deal with micro-party lawmakers it found uncooperative.
The bill is expected to pass the upper house as it has the support of the Greens party. By seeking to overhaul the Senate voting rules now, Labor says Turnbull may be preparing for a clean out.
Need for Reform
Electoral law specialists say the Senate voting rules are ripe for reform.
Senate contenders are ranked from highest to lowest, with preferences cascading to other candidates as those with fewer votes are knocked out. Voters can either rank the contenders themselves, or tick just one box on the ballot paper and let their preferred party decide how preference votes are distributed.
In the 2013 election, sawmill worker Ricky Muir of the Australian Motoring Enthusiast Party won a Senate seat after getting 0.5 percent of the vote in Victoria state.
"There's no doubt the system is being gamed," said George Williams, a constitutional lawyer at the University of New South Wales. "Minor parties are banding together to harvest preferences, allowing them to get elected even though their support is extremely small."
'Unrepresentative Swill'
Turnbull is not the first prime minister to take issue with the Senate. In 1992, then-Labor Prime Minister Paul Keating referred to the members of the upper house as "unrepresentative swill." Abbott referred to them as "feral."
Changing the system is necessary to "ensure that voters choose where their preferences go, not backroom deals between political parties," Turnbull told reporters in Canberra last week. The government is proposing voters be able to select up to six parties in order of choice, with those that don't receive enough votes becoming ineligible and their preferences discounted.
He's refused to rule out a double dissolution election, saying that while the ballot is likely to be held between August and October, "there are other options available." There has not been a double dissolution election in Australia since 1987; the most famous such election was in 1975, after the Senate refused to pass bills to continue government spending and the subsequent deadlock saw the dismissal of then-Prime Minister Gough Whitlam.
Dinner Guest
Some of the Senators elected in 2013 have proved controversial. Glenn Lazarus, a former rugby league star dubbed "The Brick With Eyes," has threatened to tackle Turnbull to the ground, and last week walked out of a dinner at the prime minister's residence, complaining on twitter of tiny portions.
Zhenya Wang, a Nanjing-born son of factory workers, has defended China's Tiananmen Square crackdown on pro-democracy protesters in 1989, while Jacqui Lambie, who left the army on a disability pension, once described Abbott as a "bare-faced, uncaring liar" and refused to vote for any government policy.
Senator David Leyonhjelm, who's conceded his tiny Liberal Democratic Party picked up some support after voters confused it with the governing Liberal party, rues some of that behavior.
"I would prefer that some of them were a little more dignified, a little more engaged and perhaps a bit more coherent," said Leyonhjelm, who lobbies for low taxes, less regulation and smaller government.
Still, he's against the changes, pointing to the last poll when 25 percent of voters didn't nominate any of the major parties or the Greens as their first choice for a Senate seat. "Those voters will have no impact on the outcome of the next election," he said. "It will disenfranchise them and that's profoundly undemocratic."
Before it's here, it's on the Bloomberg Terminal.
LEARN MORE