U.S. Distressed-Debt Ratio Rises for Ninth Straight Month: Chart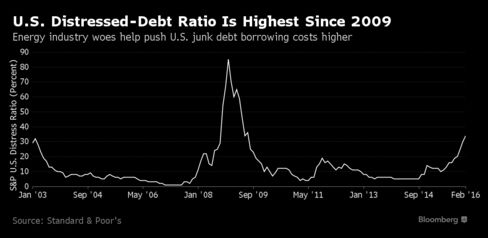 S&P's distress ratio rose to 33.9 percent in February from 29.6 percent in January, its ninth consecutive monthly gain, the credit-rating company said in a report Friday. That's the highest level for this measure of high-yield debt since July 2009. The ratio is based on debt trading at an option-adjusted spread of 1,000 basis points relative to U.S. Treasuries. "Drops in oil prices affected the profitability of oil and gas companies, where spreads have widened considerably, and had a spillover effect on the speculative-grade spectrum as a whole," S&P said in its report.
Before it's here, it's on the Bloomberg Terminal.
LEARN MORE