This $80 Billion Fund Is Hiring to Build Bet on Unlisted Assets
The biggest commercial pension fund in Denmark says it's going to need more specialist portfolio managers as it targets unlisted assets in an effort to avoid erratic market swings.
PFA Pension, which has about $80 billion in assets, will be better able to dodge sudden selloffs by relying more on assets that aren't traded on a stock exchange, Chief Executive Officer Allan Polack said in a phone interview on Monday. That means more money managers who understand the complexities of unlisted assets and fewer people who can easily be replaced by increasingly advanced technology, he said.
"We will spend more resources, more money on what we call illiquid investment assets," Polack said. "The world is getting increasingly more complex so with one hand you take away and with the other, you give." The fund is getting rid of 63 employees, who had mostly held technology and operational functions, he said.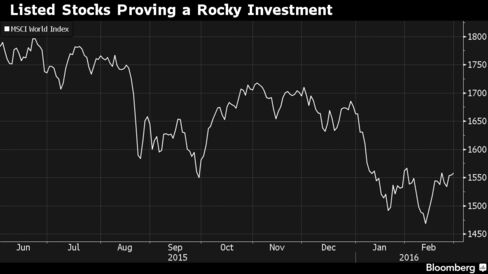 Listed stocks have plunged this year amid concern China's slowdown will scupper a global economic recovery. The Stoxx Europe 600 index has lost about 15 percent over the past year, while the MSCI World Index of stocks is down about 12 percent over the same period.
Other big institutional investors have long identified private equity as an attractive way to generate returns, including Norway's $810 billion sovereign wealth fund, which is lobbying to add the asset class to its portfolio. But it's an investment avenue that requires more know-how to handle.
"Buying unlisted assets is far more complex than trading listed assets," Polack said. "We now have to do due diligence on counter-parties, we have to produce much more complex legal agreements and we have to insert it into our risk-management system."
PFA, based in Copenhagen, had an average of 1,299 full-time employees in 2015, compared with 1,277 the previous year, according to its annual report.
The big picture is that "it's obvious that more and more things can be done more efficiently across the industry, which will mean fewer positions," Polack said.
Before it's here, it's on the Bloomberg Terminal.
LEARN MORE