BNP's U.S. Love-Panic Index Hits Record Low in Buy Signal: Chart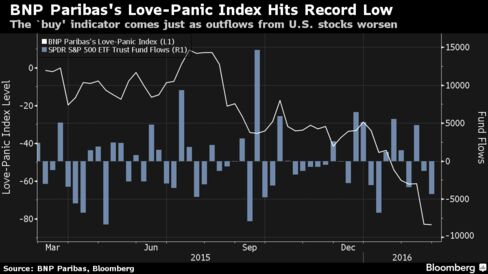 Money has been flowing out of U.S. equities, and a BNP Paribas SA gauge of market sentiment has reached "panic" levels, according to a note last week. To the bank, that's a signal of gains to come, with the model signaling an average advance of more than 40 percent in the next six months. BNP Paribas's Love-Panic index is a contrarian indicator that tracks data such as fund flows, short-interest ratios and trading volume.
Before it's here, it's on the Bloomberg Terminal.
LEARN MORE