Yemen's Ousted President Is Still a Stumbling Block for Saudis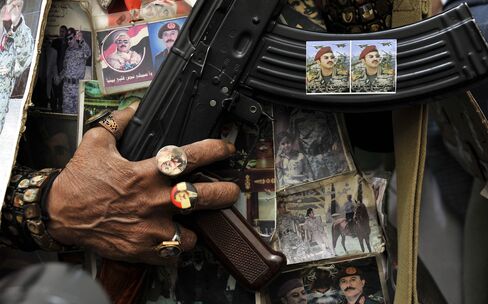 Yemen ex-leader Saleh plays key role in resistance to Saudis

Stalemate undermines Saudi ambitions for influence in Syria
Saudi leaders still insist that regime change in Syria is their goal. In Yemen, a regime they've already changed remains a thorn in the kingdom's side.
The Saudis helped broker a deal that ousted Yemen's Ali Abdullah Saleh four years ago. Now, the Saudi military is bogged down in a war in its neighbor, and Saleh is playing a key role in the resistance. Earlier this month, he vowed to "teach the invaders, the new mercenaries and warlords, a tough lesson and defeat them down to the ground."
The Yemen war is often cast as a proxy conflict between Saudi Arabia, which backs an internationally recognized government, and the Shiite Houthi rebels with ties to Iran who toppled it. Saleh doesn't fit neatly into that picture -- he's a former Saudi and U.S. ally. Yet in alliance with the rebels he's proved tough to defeat, raising questions about whether the world's top oil exporter is capable of imposing its will in the region.
"The Saudis are focused very sharply on: how do we remove him from being an element in any future equation in Yemen?" said Stephen Seche, a former U.S. ambassador to Yemen. "That's a very difficult chore. I don't know that Ali Abdullah Saleh will ever leave Yemen."
From a Saudi perspective, that's a grim precedent for the five-year Syrian war. Saudi rulers have backed rebels fighting to oust Bashar al-Assad, and repeatedly said the Syrian president is finished. But he's still there, and even seems to be winning: Russian military support since September has turned the tide.
In past battles in Yemen, Saleh, who's from the same Zaidi sect of Shiite Islam as the Houthis, fought against them -- and alongside the Saudis. Today, his home in the capital Sana'a, and those of relatives, are targets of Saudi airstrikes.
Assassination Claims
Yemen's ex-president once said that ruling his nation was like "dancing on the heads of snakes." He managed it for three decades, as president of a separate republic in the north and then of a unified Yemen after 1990, before stepping down after the mass uprisings of 2011 under a deal that granted him immunity.
The Saudis and the government of Abdurabuh Mansur Hadi, installed under the Gulf plan to replace Saleh, accuse the ex-president of being behind a string of assassinations in the southern port of Aden, the only major city to be recaptured from the rebels. Saleh's party denies involvement.
The ex-president never disappeared from Yemen's TV screens, even after his ouster. In 2014, when the Houthis seized the capital, they had support from army units still loyal to their former boss.
Saleh is "the main player in the conflict," and the Houthis wouldn't have been able to expand outside their northern base without his help, Abdulmalik al-Mikhlafi, deputy premier and foreign minister in Hadi's government, said in an interview. "He continues to provide them with the arms depots which he amassed during decades of rule," as well as cash, and the backing of tribal and political allies, al-Mikhlafi said.
6,000 Killed
The Saleh-Houthi alliance was a "marriage of convenience," said Gabriele vom Bruck, a senior lecturer in anthropology and Yemen specialist at the School of Oriental and African Studies in London. They shared common enemies, including his one-time protégé Hadi and General Ali Mohsen al-Ahmar, a key military leader. Both men abandoned Saleh to go along with the Gulf plan for his ouster.
"He doesn't have the illusion that he will regain power for himself, but perhaps he's doing this for his son," vom Bruck said. "I don't think he has given up on wanting to see this Saleh dynasty in place."
Since taking Aden last year, the Saudi-led force has advanced near Taiz, another key southern city, and Sana'a without achieving major breakthroughs. More than 6,000 people have been killed and 28,000 injured since Saudi airstrikes began almost a year ago, according to the UN, and 2.5 million are internally displaced.
Amnesty International on Monday called for an arms embargo against parties involved in Yemen to prevent civilian deaths. Since airstrikes began in March last year, Amnesty has documented "serious violations of international humanitarian and human rights law, including possible war crimes" committed by all sides in the conflict, the U.K.-based rights group said in a statement.
King's Son
Foreign Minister Adel al-Jubeir defended the Saudi intervention in an interview this month, saying it was undertaken "to protect Yemen from collapsing and to protect the kingdom from the dangers of a militia that is armed with ballistic missiles and in possession of an air force that is allied with Iran" and the Lebanese Shiite Hezbollah movement.
Whatever the intent, "if anything, Saudi Arabia's military intervention has further destabilized Yemen," said James Dorsey, a senior fellow in international studies at Nanyang Technological University in Singapore. It has "significantly tarnished the kingdom's reputation and raises questions about its military skills, despite its massive and sophisticated hardware," he said.
That's a problem for a Saudi regime -- increasingly dominated by the king's son and defense minister, Mohammed bin Salman -- that seeks to assert more influence across the region, especially in Syria. "The Saudis can't be seen to have failed in Yemen, which they see as their backyard," Dorsey said.
No side in Yemen seems inclined toward peace talks, instead believing they can score more military gains, the International Crisis Group said in a Feb. 9 report. The UN's envoy to Yemen, Ismail Ould Sheikh Ahmed, said on Feb. 17 that he hasn't received enough assurances to make talks worthwhile for now. That same day, Saleh appeared on Yemeni television saying he had enough weapons to carry on the fight for 11 years. The UN Security Council on Wednesday extended sanctions against Saleh for another year. Saudi officials didn't immediately respond to questions about Saleh's role.
His alliance with the Houthis is unstable and may not survive post-war, according to the Crisis Group. Meanwhile, the Saudis and their allies in the Gulf and U.S. are seeking to "dilute Saleh's influence" and separate the former president from the rebels, it said.
"They would very much like to see him removed physically," said Seche, the former ambassador.
Before it's here, it's on the Bloomberg Terminal.
LEARN MORE