Schaeuble Hints Germany May Be Ready to Give Greece Some Leeway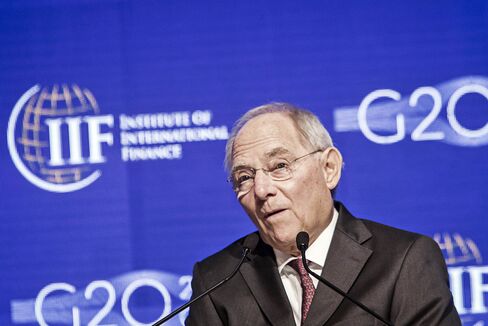 Finance minister says Germany stands by Greece on refugees

Schaeuble says Europe must work with neighbors on crisis
German Finance Minister Wolfgang Schaeuble hinted his country is willing to allow Greece some leeway as it struggles with the twin tasks of reforming the economy and caring for an influx of refugees.
"The financial situation is difficult," Schaeuble told reporters at a Group of 20 briefing in Shanghai. "Greece is in the situation that it is receiving a lot of solidarity from Germany but not from all the others."
Tensions over the handling of the region's refugee crisis escalated on Friday as Greece denied an Austrian request for talks and the European Union's top immigration official warned the deepening discord risks disaster. The divisions are widening ahead of an extraordinary summit of the EU's 28 leaders on March 7 called to take stock of efforts to secure the bloc's external frontiers and mitigate the influx of migrants.
"We are strongly fighting to combine the European tasks," Schaeuble said of the refugee crisis and economic reforms in Greece. "Both come together."
Underscoring the differing views, Dutch Finance Minister Jeroen Dijsselbloem, who heads the group of euro-area finance ministers, said earlier in Shanghai that "there's no direct link" between the refugee crisis and reforms in Greece, and that the country has to conclude the bailout program as planned.
Border Feud
Greek officials have denounced a group led by Austria for stopping refugee transit at the border with Macedonia, warning of a humanitarian crisis if refugees are bottled up and prevented from heading north. Prime Minister Alexis Tsipras's government recalled the Greek ambassador to Vienna on Thursday.
German Chancellor Angela Merkel is pushing for a deal at the summit with Turkey to help reduce the flow of asylum seekers from that country into Greece. Merkel wants any agreement at the emergency gathering in Brussels to signal that Greece won't be left alone by the EU or forced out of the euro because of the new financial burdens, RedaktionsNetzwerk reported, citing senior members of Merkel's Christian Democratic Union party it didn't name.
Merkel has argued against border closures in southeastern Europe, citing the threat that poses to Greece and Europe's passport-free travel zone. In a speech to parliament last week, Merkel warned of "the consequences for Greece, the European Union as a whole and also the Schengen area," saying she doesn't want Europe "to give up already now."
German Support
Germany's ambassador to Athens, Peter Schoof, said Friday at an economic forum held in the Greek town of Delphi that "Germany is fully aware" of the challenge to implement difficult reforms while being under pressure from the refugee wave, and "the decision has been taken in Berlin to support Greece big time."
"We must act as quickly as possible to significantly reduce the need for refugees to flee to Europe," Schaeuble said at the Saturday briefing in Shanghai. "Otherwise, the problem won't really be manageable for Europe. We don't want to turn Europe into a fortress. Therefore, Europe has to engage much more than before with its neighbors."